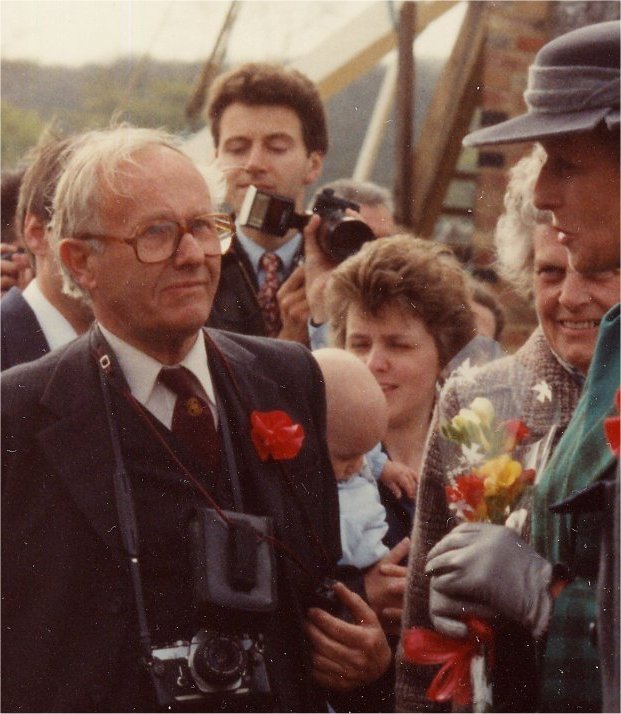 1: A Milling Hero
2: Early life & World War II
3: Industrial archaeology & SPAB
4: International molinology & TIMS
5: Mill research & expertise
6: Woodwork teacher & millwright
7: Mill restoration projects
8: Restoration of Nutley Mill
9: Restoration of Polegate Mill
10: Restoration of Shipley Mill
11: Restoration of High Salvington Mill
12: Restoration of Jill Mill, Clayton
13: Restoration of Park Mill, Bateman's, Burwash
14: Restoration of Caldbec Mill, Battle
15: Restoration of Oldland Mill, Keymer
16: Restoration of West Blatchington Windmill
17: Restoration of Lowfield Heath Mill
18: Restoration of Argos Hill Mill, Mayfield
19: Restoration of Hogg Hill Mill, Icklesham
20: Restoration of John Baker's Mill, Barnham
21: Postcards, pictures & mill models
22: Talks, slideshows & open days
23: Correspondence with mill people
24: Family & friends
25: Frank's legacy
26: The Frank Gregory collection

A Milling Hero
For Frank there was never too much that you could know about mills and milling. He never finished searching and never lost his inquisitiveness right up to his death.

Joy and Chris Ford – from the eulogy at Frank's funeral, 19th June 1998
INTRODUCTION
Frank William Gregory is widely regarded as one of the foremost authorities on mills and milling that this country has known. He spent a lifetime researching mills in his native Sussex, across the United Kingdom and throughout the world, developing a truly in-depth knowledge of their history, construction and mechanical operation. A woodwork teacher by profession and a self-taught millwright, he was the acknowledged expert on the use of traditional methods and materials in the preservation and restoration of mills.
A Sussex man, born in 1917 and brought up in Brighton, he developed a fascination for vernacular buildings, especially windmills, whilst on childhood rambles with his family in the 1920s and later with the Sussex Pathfinders. In his teens, he also discovered an interest in the geology and industrial archaeology of Sussex and the South Downs, taking part in several archaeological digs. These two burgeoning interests motivated his lifelong quest to discover as much as possible about windmills and watermills and their place in manufacturing and production within the rural economy.
MILLS OF THE UK AND BEYOND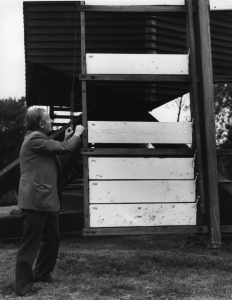 This passion for mills was the overarching influence throughout Frank's life right up until he died. School, work, the Second World War, and his career as a woodwork teacher were incidental to his discoveries about mills and milling. He travelled widely, visiting, recording, surveying and studying mills in Sussex and later throughout the UK and abroad, mostly for his own pleasure. After the war, he carried out mill surveys for local authorities and also for The Society for the Protection of Ancient Buildings (SPAB) which he had joined in 1948. As a keen member of The International Molinological Society (TIMS), he went on many foreign mill tours and his reputation became known worldwide.
Having begun his mill work in the 1930s, he was one of a handful of people who were part of the resistance against the post-war trend towards modernism. Frank and others of his generation were keen to preserve and conserve the heritage of the country for future generations. At the beginning of the 1950s, Frank probably never realised the impact he was to have on the heritage of this country. However, it was his unstinting enthusiasm and desire to see the mills restored that helped to save many throughout the United Kingdom.
Frank used his practical skills and experience as a woodwork teacher to teach himself the craft and practice of a millwright. Coupled with his impressive knowledge of the intricacies of mill construction, Frank soon became the acknowledged expert on traditional methods of mill restoration and conservation. From the mid-1960s onwards, Frank flourished as a teacher, mentor and hands-on restorer of mills using traditional methods and materials; this was the essence of his passion for mills. Retirement from teaching in 1977 allowed Frank to devote all his time to his mill research and restoration projects.
REPAIRING MILLS IN SUSSEX
The first Sussex windmill Frank helped to restore was Nutley Post Mill in the Ashdown Forest in the late 1960s. It is the last open trestle post mill in Sussex, one of only five in England and now the only one in full working order. The scale of the project was no mean feat as it was the first time that a mill had been restored using a volunteer workforce mainly made up of amateurs and enthusiasts from The Sussex Industrial Archaeological Society (SIAS). The success of Nutley encouraged other local archaeological and preservation societies to restore more Sussex Mills: Polegate; Shipley; High Salvington; Jill Mill at Clayton, and Park Watermill at Bateman's. Frank was at the forefront of these restorations, providing technical advice and practical help. Later in the 1970s and 1980s Frank was once again involved in major windmill restoration projects at West Blatchington, Oldland Mill at Keymer, and the removal and rebuilding of Lowfield Heath Windmill. The satisfaction he must have got from seeing once derelict mills come to life once more must have been immense.
Frank's reputation for using traditional methods for mill restoration recommended him as a source of advice and help with mill restoration projects within Sussex and throughout the United Kingdom. He was held in the highest regard as an authority on mills and milling by his peers, specialist organisations and mill groups, as well as council planning officers, professional engineers, architects and surveyors. He was often asked to conduct mill reports or to give advice and comments on plans and schedules for repair. All this was a tremendous accolade for a man whose only official qualifications were a craftsman's diploma and a teaching certificate. SPAB recognised his remarkable work on Sussex mill restorations and their appreciation for the mill surveys he had undertaken on their behalf, with a special presentation in March 1979.
Over the years, Frank developed an encyclopaedic knowledge of windmills and watermills covering their history and use, construction and mechanical operation. This vast knowledge sat easily on his shoulders and he readily shared it with others. He was a modest man who always had time to talk to people about mills and how they worked. He was a volunteer guide at open days for many mills in Sussex and enjoyed showing visitors around. The best audiences, as far as Frank was concerned, were children whose natural inquisitiveness, enthusiasm and desire to learn matched his own.
FRANK'S RARE PUBLISHED WORKS
Frank's love of mills was always regarded by him as 'just a hobby', so he saw no need to write academic books, learned articles and research papers. His only published work was Sussex watermills (1997), that included over 100 of his pen and ink sketches of Sussex watermills drawn in the 1930s. He also wrote the guidebook notes for Shalford Watermill, helped set up the exhibition at Park Watermill and was instrumental in the creation the museum room at Polegate Tower Mill, donating his model of a Sussex post mill (Nutley) to the collection. Frank was an engaging speaker giving numerous talks and slideshows to many different local organisations; these talks would often raise funds for a mill appeal. In the 1980s, he was also interviewed several times for television.
Frank kept everything he found to do with mills: notebooks; artefacts; artwork and illustrations; and written material including newspaper cuttings from the 19th century. During the course of his life, Frank took approximately 10,000 photographs, collected glass plates and magic lantern slides and bought hundreds of postcards. Fellow mill enthusiasts added copies of their own images to this collection. This fascinating collection of images show mills in varying stages of repair and includes some of the last recorded images of particular mills before they were demolished, burnt down or collapsed. He also kept hundreds of letters over a 50 year period from friends and professional acquaintances with whom he corresponded in Britain and all over the world. These are a testament to the lasting friendships Frank enjoyed and the high regard in which he was held.
He never lost his desire to investigate mills and was still climbing right to the top or entering potentially dangerous places, even when in his seventies. Despite his advancing years, he was always keen to go on SPAB visits and mill tours, as well as abroad with TIMS; the pace of these tours would tire men half his age. Whilst Frank was undoubtedly aware of the respect and esteem others bestowed on him, he remained modest about his achievements and did not like fuss. However, friends and fellow millworkers had an opportunity to pay their tributes to Frank at a surprise party for his 80th birthday in November 1997.
The death of Frank William Gregory on 7th June 1998 brought to an end an incredible life of enjoyment, fulfilment and great achievements in mill research and restoration, industrial archaeology and heritage conservation. After his funeral, his ashes were scattered at some of his favourite windmills: Nutley, Shipley, Polegate, Oldland, High Salvington and West Blatchington.