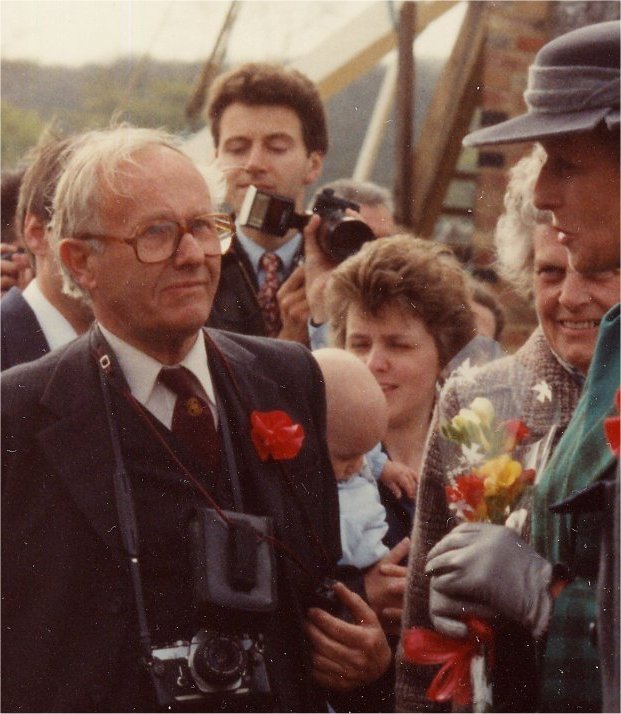 Frank's legacy
Frank died on 7th June 1998 and his funeral service took place on the 19th June; the tributes were many. His daughter, Joy, and son-in-law, Chris, scattered Frank's ashes from the top of Nutley, Shipley, Polegate, Jill (Clayton), West Blatchington and Oldland windmills.
It is thanks to Frank's passion and tireless enthusiasm for finding, recording, preserving and restoring mills that an important part of our industrial heritage has been saved for generations. The true legacy of Frank's lifetime work lies in the Sussex windmills he helped to restore and preserve: Nutley, Polegate, Shipley, High Salvington, Jill Mill at Clayton, Oldland Mill at Keymer, and West Blatchington Windmill. He was also involved in the removal and restoration of Lowfield Heath Windmill in Surrey and advised in the restoration of Park Watermill at Bateman's near Burwash.
Most experts are keen to publish the results of their research as articles or books. Writing was not Frank's forte and his written contributions are mainly in the form of his pencil notes whilst doing mill surveys or restoration and repairs. He wrote the guidebook to Shalford Watermill on behalf of the National Trust, created the exhibition at Park Mill at Bateman's and wrote the notes to accompany his model of a Sussex post mill, probably Nutley.
Frank's only printed book is Sussex Watermills, published by SIAS in 1997. These include 100 pen and ink sketches he drew of Sussex watermills in the late 1930s; some have since been demolished. SIAS commended him on its publication:
Frank has been a stalwart in support of all aspects of the society's activities giving advice and practical assistance to all who ask; a truly dedicated industrial archaeologist.
He also received a letter from Marjorie H. of Petworth, who had bought his book:
I do congratulate you. What a valuable record and from so early as the 1930s! It is most informative and for someone like me, who am without technology, quite invaluable.
Frank's death constitutes a lost repository of knowledge but his legacy stands in the mills he restored, his collection of photographs, notes and drawings and in the memories of people he knew and worked with. His collections and papers were given to the Weald & Downland Museum after his death. The significance of Frank's collection and life's work is neatly summed up by Lawrence Stevens of the Eastbourne & District Preservation Trust:
Frank Gregory's milling archive is a monumental collection. [It is] an unparalleled potential contribution to our knowledge of Sussex, British and world-wide molinology.
The Frank Gregory Online Project has been funded by a grant from the Heritage Lottery Fund. SPAB was one of the many individuals and organisations that wrote letters of support for the application. The grant has enabled volunteers at the Mills Archive Trust to sort and formally catalogue Frank's collection and make it available online so that others can continue to learn "all about mills".