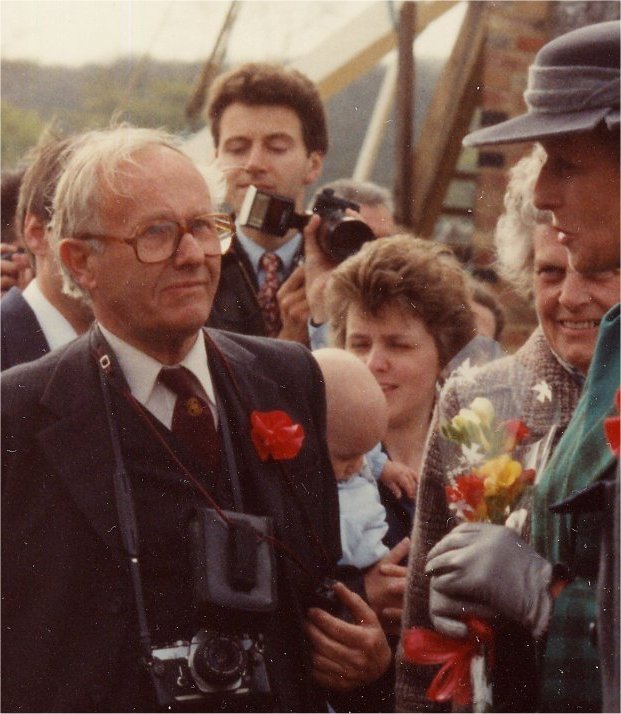 Correspondence with mill people
Throughout his life, Frank actively corresponded with friends and acquaintances on the subject of mills. He kept the majority of these letters and on average he received two or three a week. A few letters remain from the 1930s but the vast majority are post-war from the 1950s onwards.
Frank enjoyed many warm friendships as can be seen in the letters. He was good friends with the millers Peter Powell of Shipley and Sidney Ashdown at Cross in Hand and it was through them that he gained a working knowledge of Sussex Mills. Martin Brunnarius sums up this first-hand experience as "hard won today and counted as a rare privilege". H.E.S. (Syd) Simmons corresponded with Frank from the 1930s and eventually gave Frank some of his research notes and photographs taken by Alan Stoyel. Syd was generous in his praise of Frank's work and happy to pass on compliments from other people as in a letter of 8th May 1968:
I am glad to know you are carrying on with the good work…. There have been two very nice compliments about you in recent weeks, one from Sidney Ashdown whom I saw about a fortnight ago who said, "He [Frank] really does work hard" and the other from Mr Stephen Buckland of London who speaks of you as Mr Frank W. Gregory of Brighton who is a wholly reliable fieldworker.
Some of Frank's correspondents, like Stephen Buckland, with whom he corresponded for 40 years, were prolific in their letter writing. Other significant correspondents included Ken Harrison, Martin Brunnarius, and Lawrence Stevens. Martin and Lawrence both sent Frank copies of manuscripts of book they had written seeking his comments.
Frank's correspondence with Raymond Duthy, an amateur artist from Hampshire, began with a request for advice about mills so that Duthy could paint them accurately. Their correspondence and the occasions that Frank took to show Raymond around Sussex Mills, developed into a friendship lasting many years. Raymond gave Frank a number of his mill pictures in return.
Like all enthusiasts, Frank regularly exchanged and received photographs and postcards by post; some he had requested but others were sent just for his interest. He also sought permission from local museums and galleries to photograph their collections of mill pictures, particularly Marlipins Museum at Shoreham and the Ditchling Gallery. He also wrote to people seeking information to further his knowledge of mills. For instance Frank and Kenneth Major exchanged several letters and visited several animal-powered mills.
Frank made many visits abroad and had friends through TIMS. Some correspondents refer to visits to mills at home and abroad. There are letters that indicate proposed visits Frank intended to make or were for information gathering about mills in the UK and abroad. Likewise he enjoyed showing guests around Sussex mills and some letters give thanks for the hospitality.
Frank collected estate agent details of mills for sale. When a mill was sold, he would contact the owner under the auspices of SPAB, TIMS and SIAS. Frank would give the new owners a brief history of their mill, mentioning any special features and the mill's potential importance to the local area especially if it was listed. He would offer his services to help with getting a restoration project started, particularly especially with any planning applications. Many letters are from planning officers, local architects, surveyors and engineers relate to the restoration projects Frank was involved with as well as recommendations to clients for advice and mill reports. From these letters one can see the breadth of Frank's sphere of influence and the high esteem in which he was held.
Letter from Jon Sass