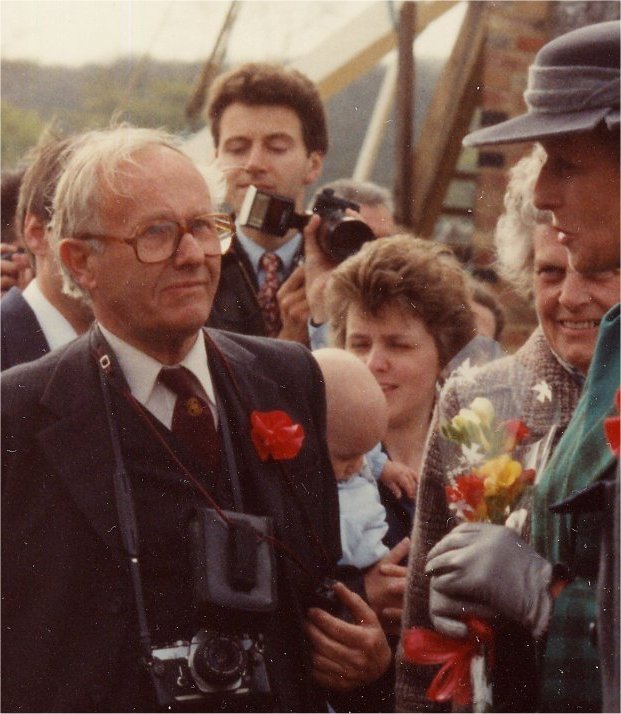 Early life & World War II
Frank William Gregory was born at home in St Luke's Terrace, Brighton, Sussex on 3rd November 1917 to William Gregory and Harriet née Fish. His parents had married late in life: William was 52 and Harriet was 40 when Frank was born. Frank's sister, Eileen, was born in 1920. His father, William Gregory, born in 1864, was a true Victorian entrepreneur. His business interests ranged from trading as a coal merchant to selling mineral water for Harris & Co. Frank's daughter, Joy, believes that her grandfather bought and ran Harris & Co for a number of years.
William and Harriet Gregory were keen walkers and members of Brighton Rambling Club. Frank's interest in mills and vernacular buildings stems from rambles with his parents in the Sussex countryside. His father was able to afford to run a car and took Frank to visit various mills. According to the late Ken Hamlin, who led the restoration of Nutley Post Mill, one of Frank's earliest memories was climbing the steps up to Nutley Windmill holding his father's hand.
Frank won a place at the Brighton & Hove Grammar School for Boys on Dyke Road but his academic career is not recorded. At weekends and school holidays, he cycled or walked to various mills occasionally taking photographs using a Kodak Box Brownie but more often, to save money because camera film was expensive, he drew pen and ink sketches of Sussex Watermills that he would later use as illustrations for his talks and slideshows. These sketches show an eye for detail and an artistic talent. There is probably not a mill in Sussex that Frank did not know about or visit.
Like all teenagers, Frank and his sister Eileen sought independence from their parents. As keen ramblers, Frank and Eileen joined the Sussex Pathfinders, a rambling club set up in 1931 for young people. It was through the Sussex Pathfinders that Frank met his future wife, Betty. Frank became Secretary in 1946 and over the next 30 years, increased the membership to over 100. He took on the role of Treasurer as well, finally retiring from both offices in 1977. Frank went on several trips with the Holiday Fellowship, a company specialising in walking holidays that still operates to this day. During these trips, he often wrote a diary and one survived in his collection recording a trip to Conway in Wales. Some family holidays and Holiday Fellowship trips were to Europe. This yen for foreign visits never left Frank and he was still travelling at the age of 79. Eileen also made a name for herself as one of four members of the Abinger Himalayan Expedition team in 1956, the first all-woman expedition to Nepal.
We do not know what jobs or training Frank did after he left school but, at the age of 22, he was called up when the Second World War was declared. He joined the Royal Engineers and spent the war years at Aldershot working on logistics and troop movements. In his spare time, he cycled to visit mills or returned to Sussex for Pathfinder rambles. After the war, petrol was still rationed and cycling became a popular pastime. No doubt, whilst on these cycling trips, he would also take the opportunity to see various mills or other industrial buildings of historical interest. Once he was earning, he could travel further afield by bus and train until the Beeching cuts of the 1960s restricted train travel to main lines.