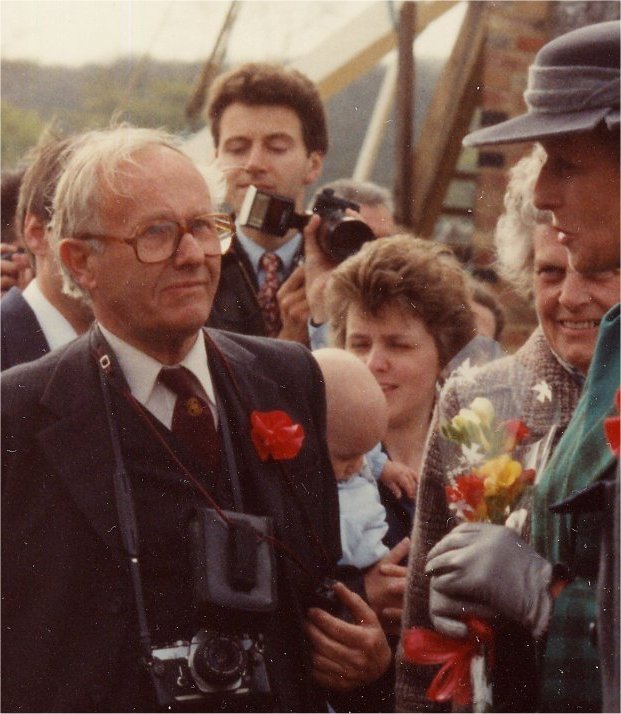 Restoration of Shipley Mill
Click here for more information on Shipley windmill.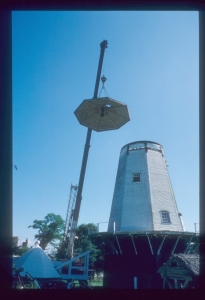 Frank took an interest in the restoration of Shipley Windmill from the 1950s. The mill was formerly owned by Hilaire Belloc but managed by West Sussex County Council. Frank had a regular correspondence with Hilaire Belloc's son Reginald Jebb and then with Belloc's grandson, Philip. He was great friends with the miller Peter Powell. In 1965, after Peter's sudden death, Frank offered to show visitors around the mill.
In March 1976, Mr P.J. Brown, the County Valuer & Land Agent, wrote to Frank expressing concern about the high costs of maintaining the mill in a satisfactory condition and the cost of publishing the booklets and leaflets for open days that were of limited benefit to the public. Apparently, the interior of the mill "left a lot to be desired" and the fittings were not in working order. Mr Brown wished to meet Frank to "pick his brains", as Frank had "considerable experience in the preservation of a number of windmills".
In October 1980, Frank and Mr Crowther did some work on the spur wheel. Frank removed [three?] trial cogs and delivered them to Lewes for repair. He then collected, replaced and treated them. Frank submitted an invoice for the work for £55; he only charged £30 for his labour at £1 an hour which was well below the going rate and probably just a token. Peter Brown of West Sussex County Council also wrote to Frank in October 1985 regarding repairs to the stock assembly.
Responsibility for the restoration and maintenance of the mill passed to the Shipley Mill Charitable Trust in 1986 and the mill was leased to the trustees for 20 years. Initial endowments of £75,000 were given by WSCC and additional funding would be sought for general repair and maintenance. Millwright Vincent Pargeter visited the mill on 7th March 1987 and carried out a survey. His report suggested a phased restoration and he produced a specification for repairs in May. The first stage of the work happened in 1987/88 when the cap and sweeps were removed.
After its restoration, Frank regularly showed visitors around and was also able to grind corn again. Martin Brunnarius relates how Frank endeavoured to mill at Shipley at least once a year:
"Shipley mill is a large one and complete control of her requires the right amount of strength, knack and confidence, especially on a blustery day with two dozen enthusiastic visitors attending. I [Martin] remember arriving on a particular Sunday afternoon, to find that she was tail-winded against a very light breeze. Was there any hope of grinding, I wondered?; could she be hand-wound to bring the sweeps into the wind, for what it might have been worth? We went up to the fanstage; Frank disengaged the fan, and with a hint of a grin, handed me the winding handle. After a few strenuous turns, it was obvious [that] any miller here must have cursed the dead curb under the cap on many occasions. The view over the mill field and across the Low Weald to Chanctonbury Ring was, however, some consolation."
Frank appears on an educational video made at Shipley to demonstrate how the windmill is operated. He was also interviewed in front of the camera on 30th March 1994 for the programme Country Ways. Some of Frank's ashes were scattered at Shipley in 1998.