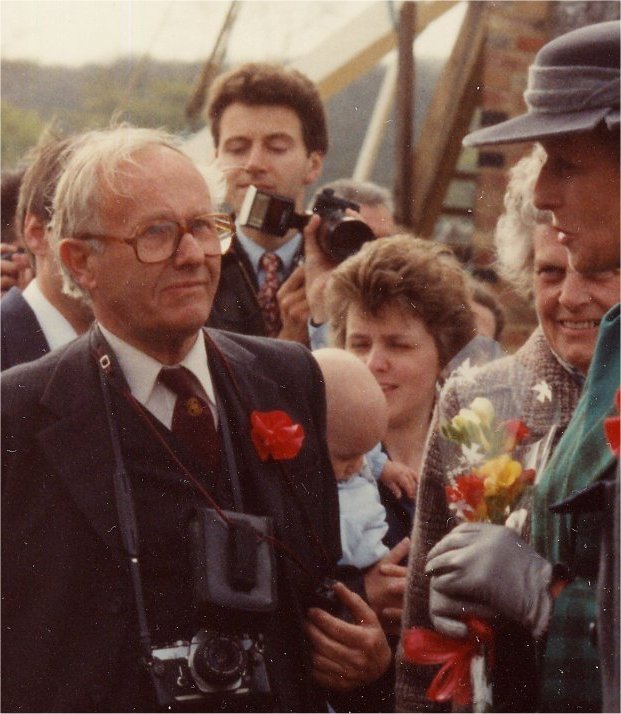 Restoration of Hogg Hill Mill, Icklesham
Click here for more information on Hogg Hill mill.
One of the earliest references to the repair of this mill in Frank's collection is a 1968 note from J. Davies, head of the millwrighting firm of R. Thompson & Son of Alford, Lincolnshire. Davies indicated that they were to start work at Icklesham on Monday October 28th and expected to be there for 2-3 weeks. They had a new road baulk (or weather beam) to fit, plus a brake band, 2 new stocks and 4 sails, and he hoped that Frank would be there.
Paul McCartney bought Hogg Hill Windmill in about 1982. Shortly prior to this, in November 1981, Frank wrote a report on the Mill. His fee was £60 and the collection includes a receipt from McCartney's agents, MPL Communications of Soho Square, London. Chris Steadman completed another report on the mill dated 25th June 1983 and sent a copy to Frank on 18th November 1983. No further information is given on the action taken to repair the mill made as they were waiting for proposals to be made.
Progress was made as a letter dated 9th September 1986 from John Underwood, of the architects Le Fevre Wood and Royle, stated that he had passed the details of millwrights that Frank had suggested to Paul McCartney's company to obtain quotes, namely Messrs Hole and Messrs Thompson. Mr Underwood asked Frank to send him a copy of his repair notes and recommendations.
Bill Strickland wrote to Frank on 12th Nov 1988 reporting that work was progressing at Hogg Hill by Millwrights International Ltd of Mapledurham. It transpired that Dick Merricks, former owner of Hogg Hill had recently visited the mill and mentioned some drawings that Bill had done of the interior of the mill in 1975. Bill was asked to take the drawings and showed them to Chris Wallis and Dave Empringham, directors of Millwrights International. According to Bill, the mill is now rotated by hand, had a new winding fan but no tail pole; it is shifted by a tubular metal substitute.
Frank asked Eddie Klein, Sir Paul McCartney's manager, in summer 1997, if he could to visit the mill with members of SPAB. Eddie Klein replied on 5th September 1997 giving permission but they would do so entirely at their own risk. The interior of the mill was still undergoing major restoration and Mr Klein was uncertain whether they would be able to gain access in May 1998, presumably the suggested time of the visit. According to Mildred Cookson of SPAB, this visit did not take place as Linda McCartney died and, on the day of the proposed visit, her ashes were to be scattered around the mill. Frank himself died a few weeks later.