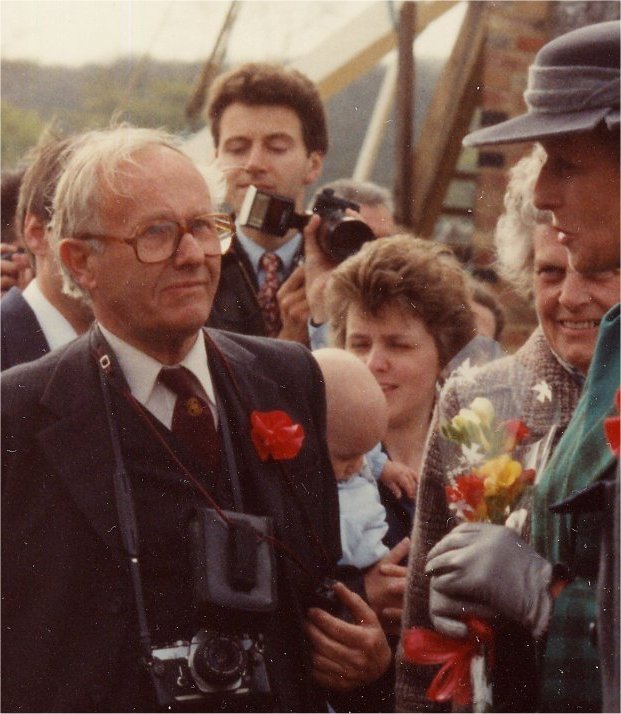 Woodwork teacher & millwright
After the war, Frank trained as a woodwork teacher at Shoreditch and his first post was at a school in West Croydon. Frank travelled to Croydon every day by train from his home in Harrington Road, exploring all the different routes possible to get there. However, the Beeching cuts of the rail network in the 1960s put an end to that. Eventually, after his daughter, Joy, was born, Frank got a job at Moulsecoomb Secondary School. Later in his career, according to his daughter Joy, he became an assistant to a specia adviser within the local education authority. He retired in 1977. Frank kept only a few reminders of his teaching career. In April and October 1963, Frank made over 20 scale drawings of the machinery at Hoad's Mill at Wydown near Bexhill. Most of the October sketches are on the reverse of some of his pupils' marked homework from 1957 and 1958. The pupils were awarded B and C grades and a few received B+. Frank also kept a few of his lesson plans and a book of scale drawings for woodwork projects.
The war and his teaching commitments were but interruptions in his quest to discover everything there was to know about mills and milling. Once he retired in 1977, he was able to devote all his time and energy to restoration and conservation projects. However, the teacher in him never disappeared and Frank was a true exponent of lifelong learning. He never lost his enthusiasm to seek out and discover mills at home and abroad in order to gain a greater understanding of how they worked and were constructed. His affinity with teaching naturally inclined him to act as a mentor and teacher to volunteers on a number of mill restoration projects, notably at High Salvington and West Blatchington.
His own knowledge of woodwork, coupled with wide reading and intricate examination of mill construction and machinery, enabled Frank to teach himself most of the techniques of millwrighting. When surveying or working on a mill, Frank's eye for detail could spot previous repairs. He was even able to recognise the work of other people. Chris Wilson of Over recalls how Frank would recognise the work of Edwin Hole, the millwright, with the cry of "that's a Holerism!". When Frank saw bad workmanship, he'd say that whoever had done it had got "the mill waffling round".
Vincent Pargeter, the millwright, credits Frank for inspiring his choice of career:
I first met Frank in the early 1960s when as a youngster and visited several windmills with him in the company of Peter Powell of Shipley and Rodney de Little. He was a great authority on mills … his considerable knowledge and enthusiasm helped to encourage me in my interest which culminated in my becoming a professional millwright in 1969.
Frank was highly regarded by other professionals and often recommended to clients to undertake mill reports, give advice or practical help. In the 1960s, the new owner of Terwick's Mill, Mr C.F. Hill, wrote to Frank asking him to visit and advise them about the mill machinery so that they did not damage or throw away anything of historical importance. Frank had been recommended to Mr Hill by the then Director of Singleton as "an expert on the watermills of Sussex". Another new mill owner, Mr G.L. McNally, wrote to Frank in February 1986 about his converted mill, King's Mead Windmill at Caldbec Hill near Battle. The sails had been fixed when it was converted into a home and he was concerned about the stress this may cause in high winds. The engineer's department at West Sussex Council had given him Frank's name as someone who is "qualified to give at least preliminary opinion on the condition of the tower of the Mill and the likely effects of storms upon it". Frank visited on 11 March 1986 and was paid £50 as "fair compensation for his time and trouble".
Qualified engineers trusted his judgement with tricky situations, particularly when mills had suffered storm damage. Planning officers and council engineers also sought his opinion on mill repairs, sometimes requesting second opinions on reports produced by more qualified engineers and millwrights. He was also sent copies of planning applications, mill reports, repair schedules and architects plans to comment on or asked to make site visits to give advice and/or assistance with minor repairs.