Come and work with an organisation recently described as "one of the great archive success stories of the last decade".
The work is varied and the atmosphere friendly, the offices are light and airy and you will be making an important contribution to preserving the documentary heritage of windmills and watermills as well as more modern mills and similar structures.
Whether you are interested in social history, architecture and engineering or in archive and library work generally, we will have a topic for you. You do not need any mill expertise – but be warned, you will rapidly develop a liking for these fascinating examples of renewable energy use. You will be expected to have reasonable computer skills, but we provide training in digitising, cataloguing and handling materials.
To find out more, why not come in and see us? Use the contact form to make an appointment. You will be very welcome and we even provide free tea, coffee and biscuits!
OUR WORK EXPERIENCE PROGRAMME
Since 2010, we have offered a limited number of volunteer placements for individuals contemplating a career in archives and libraries. If you have a degree, or are studying for one, or have previous experience in a library or archive, you may be interested in our work-experience programme.
Frequently, professional archivists and librarians are expected to have relevant postgraduate degrees and suitable practical experience. Working in a small archive such as ours can give you a wide range of experience and may be ideal as a platform for career advancement. We are happy to work with you to ensure your CV reflects this, although it will require a long-term commitment on your part.
We have ten work stations, an archive of two million records and a library of 4000 books and journals, so there is every likelihood you will find something of interest. Please contact us if you would like to discuss participation in this scheme.
WHY AM I A VOLUNTEER?
Read more about the experiences of our volunteers and those who come for work experience.
ARCHIVE DEVELOPMENT AND PUBLICITY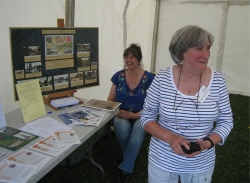 Depending on your interests we can offer experience at different levels in generating support for the Mills Archive Trust, the registered charity that runs the Mills Archive.
DISABLED ACCESS
We pride ourselves on the wide variety of people who volunteer at the Archive. Please be aware that our offices are in Watlington House, a Grade II* William and Mary building (dated 1688). Although our offices are on the ground floor with a small car park adjacent to the building, the toilets and refreshment areas are down stairs which would be very difficult for some to negotiate.