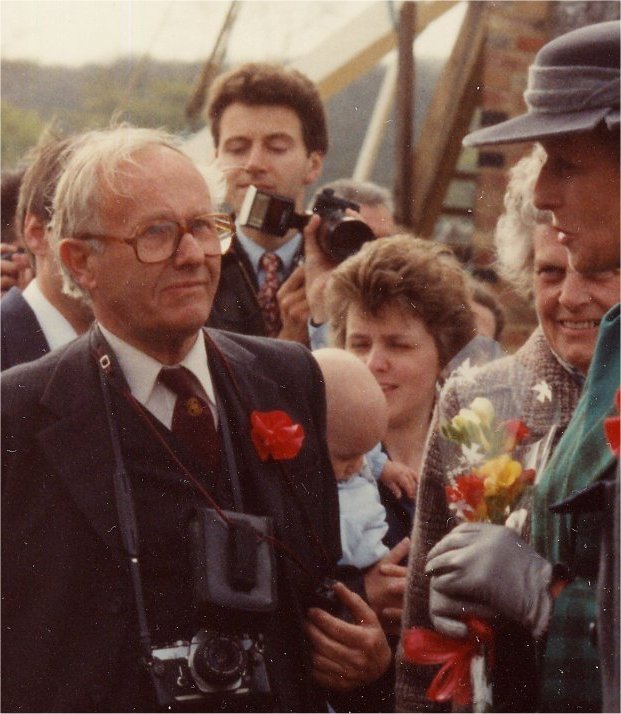 Mill restoration projects
[The information in the following chapters has been derived solely from Frank Gregory's archive of correspondence and papers with additional recollections from friends and acquaintances. Any errors or omissions are unintentional. There are gaps in the correspondence: Frank didn't keep everything. This may have occurred when Frank moved house in 1988 and was forced to throw out extraneous material. Therefore, I can only give an idea of breadth of Frank's involvement in various mill restorations: liaising with planning officers and district engineers; producing mill reports and schedules of work; advising on repairs or simply rolling up his sleeves and giving practical help. The Mills Archive Trust is happy to make corrections or incorporate additional information in order to get the facts right.]
Frank was drawn into mill restoration as a way of preserving the industrial heritage that was rapidly being lost in a tidal wave of modernism. For much of the 1950s and 1960s, old buildings were demolished or disguised behind facades. Post-war governments and architects, tasked with massive building programmes after the war, looked towards a brave new world where heritage, folk culture and traditional methods of working were deemed passé. Demand for food, building materials and textiles was high; mass production and long distance freight transport revolutionised agriculture and industry, making the time-honoured way of farming and local industry seem quaint and slow.
Traditional mills could not keep up with demand and millers sold out to large companies or just retired and the mills stopped working. Stripped of their parts for building materials, mills and other agricultural buildings quickly deteriorated into dereliction and destruction. The rural landscape changed in a few short years and it must have been disheartening to see a way of life abandoned to its fate. Men like Frank created a groundswell of public opinion that persuaded planning authorities to consider that the old and new could exist beside each other. Heritage and history became key components of the growing tourist industry that sought to promote Britain as a holiday destination in the face of competition from cheap package holidays abroad.
Frank was not a "committee man", according to Peter Casebow of High Salvington. However, they were a necessary evil in order to get things done. During the Second World War he had been based at Aldershot and involved in organising logistics and troop movements with the Royal Engineers. These skills were certainly useful when it came to organising mill restoration projects. When Frank volunteered or was asked to help with Sussex mill restoration projects he inevitably found himself on the restoration and management committees. His interest remained long after the restoration, helping with open days, maintenance and repairs.
Frank kept tabs on all the projects he was involved with and also the fate of mills that had been earmarked for demolition or conversion. He possessed an uncanny knack of turning up to record when the next phase of a project began or when some tricky task had to be accomplished or when machinery was stripped or a mill demolished. Those who worked with him have said that whenever they wished for Frank's advice, there he would be ready to give it. Frank was also never averse to rolling up his sleeves in order to demonstrate or simply get a job done.
He also had an amazing head for heights at a time when there was scant regard to Health & Safety, apart from the need to get special insurance for named individuals to work above 30 feet. Several photographs in his collection show him hanging halfway up the sweeps (Nutley and Jill Mill) and a photograph taken by John Pelling shows Frank and Peter Casebow sitting right at the top of High Salvington to work on the roof. Bob Bonnett recalls that when they worked on Nutley, his view of Frank was mostly of his legs.
Frank was in his element when working on a mill, and he did all this without a hard hat, ropes or safety harness; nowadays those would be compulsory. Many people working on a building site might wear work clothes, overalls and protective boots – not Frank. He was a dapper man and photographs show that he always dressed the same whether he was working on a mill or just visiting: jacket and tie, a Trilby and ordinary shoes. However, the photographs do not show that his work clothes had patches and holes in the jacket nor do they show the trouser seams held together with safety pins! This semi-formal style was the everyday dress for men of his generation and he saw no need to change. The only alteration to his dress was for mill open days when he would don his traditional smock and necker over the top of his clothes.