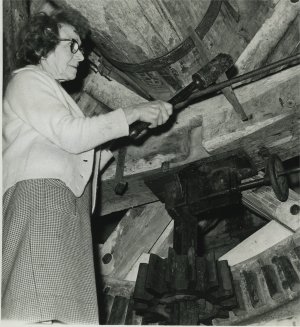 1: Women in milling: A social history
2: Milling: background social history
3: How do women fit in?
4: The role of women in the milling industry
5: How were women directly involved in the milling industry?
6: Widows
7: Daughters
8: How were women indirectly involved in the milling industry?
9: The destiny of the small local miller
10: The 20th century and today
11: Conclusion
12: About the author

Women in milling: A social history
She is a Jolly Miller – and she lives by herself
(Daily Mail article relating to a Mrs H. Dickinson, a miller of Thunderbridge, Yorkshire – 21st October 1938)
Using the online database and books held at the Mills Archive, I have been investigating the role of women in the milling industry. My research has been in part based upon the 1881 census returns regarding millers, milling and millwrights held on the MA database. I have also used books, articles and other online resources in order to research the roles and experiences of women in the milling industry. I have largely focused on women in the milling industry since the nineteenth century.
There is a wealth of material regarding the mechanical workings of a variety of mills and the uses of those mills. Many histories of individual mills are also available. This stands alongside an array of material relating to the lives of male millers, which is both interesting and revealing, including Life in rural England by William Coles Finch [1], The Life of Joseph Rank by R.G. Burnett [2] and Recollections of a Lincolnshire miller – Robert Wilson of Huttoft by Gordon Willson [3]. These accounts are especially enlightening regarding the harsh, unpredictable and unforgiving lives of millers, particularly regarding the eighteenth century. Women, however, are typically absent from these accounts. If women are mentioned, it is usually in relation to a male miller, either as their wife or their daughter.
This study has attempted to investigate the role of women in the milling industry as thoroughly as the sources available will allow, and in this way highlight the often significant and vital role of women in the milling industry.
---
Footnotes