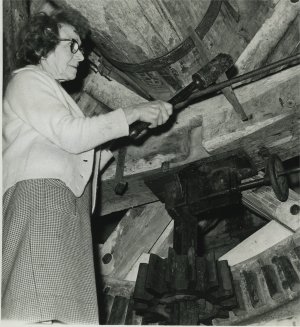 How were women indirectly involved in the milling industry?
Women did not have to directly inherit a mill in order to be a vital component in the running, survival and success of individual mills. As millers' wives or daughters, women also contributed to the family milling economy, even if they were not officially classed as the resident miller themselves. If the whole of a miller's family lived on site at the mill, as discussed above, it is likely that the female members of the family will have gained at least a basic knowledge of the work involved in running a mill. They may have already assisted the male members of the household in maintaining or running the mill in some capacity, for example bagging flour. Jennie Willson undertook book work at mills owned by her father William Willson in Huttoft, Lincolnshire, in the mid-nineteenth century.
William Coles Finch in his Life in rural England, gives many interesting insights and revealing accounts of mills and millers' lives in the nineteenth century. Apart from noting that millers often referred to their mills as being a "she", however, Finch does not remark upon women in relation to any aspect of the milling industry [1]. It is important then, to attempt to read between the lines, and consider the ways women may have been indirectly involved in the milling industry.
The following account of Eleanor Williams is illustrative of the indirect, but important, roles women could play in the milling industry.
---
Footnotes
[1] Coles Finch, William, Life in rural England (C.W. Daniel, 1928)