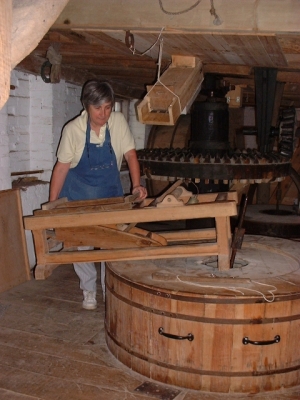 Caribbean sugar mills
The evocative sugar cane mills of the Caribbean are comprehensively illustrated in Mildred Cookson's collection.
The warm, rainy climate of the Caribbean islands is ideally suited to the growing of sugar cane. This fact was exploited by plantation owners who made use of slave labour to grow, harvest and process the crops.
Wind power was widely used in Barbados, Grenada, Antigua and elsewhere to crush the newly-harvested cane and extract the juice which was then boiled and refined. The typical sugar cane windmill is an incredible structure with terminology all of its own, robustly constructed of local stone and tropical hardwoods, and significantly different in design to the corn mills of the UK, Europe and the USA.
Most of the windmills on these islands survive as empty towers but a few retain fragments of machinery and a handful of mills have been fully restored. The finest remaining example is undoubtedly Morgan Lewis Mill in Barbados, classified a World Heritage Site.
---
Plantation scene with windmill, Antigua
Old postcard showing a typical plantation scene. The windmill has canvas-covered sails and its cap is turned to face the wind using a long tailpole. On the right, the building with the chimney is the boiling house where the crushed cane was refined.
---
Rear view of sugar cane windmill, Barbados
A rear view of a working sugar cane mill, showing the large porch. The lady on the right is carrying away a pile of crushed cane on her head.
---
Derelict mill wall in Guadeloupe
Ruins of a mill from the time of Père Labat, French missionary involved in the development of the sugar industry in the West Indies.
---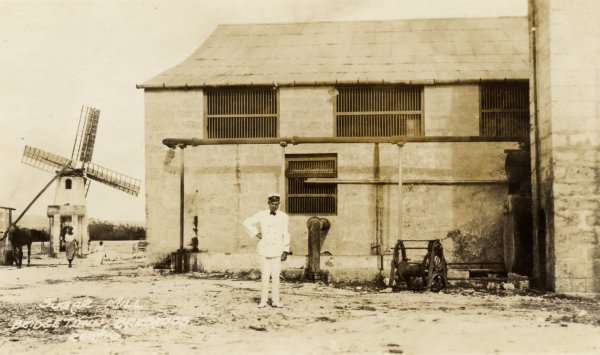 Building and distant windmill
A plantation scene. The mill in the distance is possibly a pumping mill, and may never have been fitted with a roof above its cap frame.