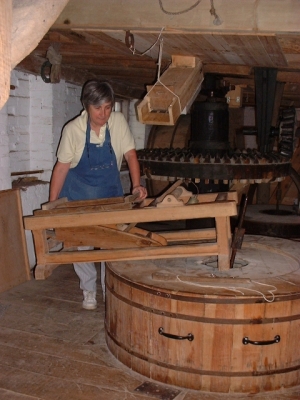 Mildred M. Cookson's collection is one of the four Foundation Collections of the Mills Archive, and is one of the most nationally significant sets of mill-related documents in private hands.

Mildred on the stone floor at Mapledurham. The millstones are being dismantled for re-dressing. Having lifted off the hopper and shoe, Mildred removes the wooden horse from its working postion on top of the millstone case.
As one of the Archive's Foundation Trustees, Mildred has willed her collection to us and although it is actively growing and still in her care, she allows access to relevant parts for scanning and cataloguing as our programmes develop.
Mildred's research interests range from the animal-powered water-raising Norias of Egypt to the wind-powered sugar cane processing mills of Barbados. Her interest in the different types of windmills and wind engines through out the world has generated a collection of catalogues, illustrations and photographs from Russia, the USA, Europe and Australia.
Closer to home, Mildred is one of the few full-time female watermillers in the country. She has been the miller at Mapledurham Mill, an ancient watermill on the River Thames near Reading, since 1983.
Having grown up in Lancashire, the mills of Anglesey and the Fylde have remained in focus throughout Mildred's life and this is reflected in her own drawings, paintings and illustrations. Mildred's diaries of her involvement with the Kent Windmills Restoration Project add a uniquely personal element to her collection.