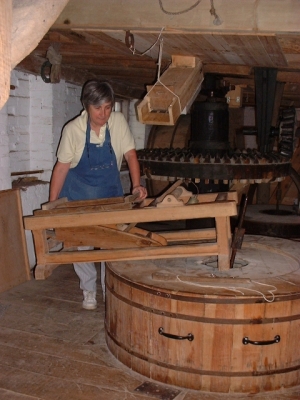 Mapledurham Watermill
The collection is very large and contains Mildred's own photographs, slides, research notes and free hand sketches. It also includes diaries of her 30 years as miller at Mapledurham watermill, the last working watermill on the River Thames.
---
Mapledurham Mill
Downstream view of the watermill with its external wheel visible.
---
The meal spout
The mill at work: Mildred checks the quality and fineness of the meal emerging from the meal spout between her finger and thumb.
---
Millstone dressing
An early photograph of Mildred at work on the stone floor. Using a traditional metal mill bill fixed to a wooden handle called a thrift, she roughens the working face of the runner stone to sharpen it.