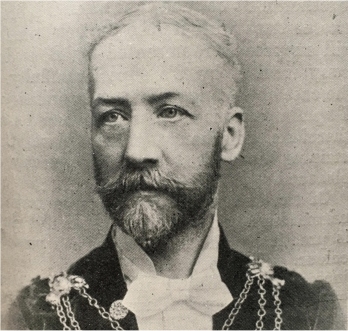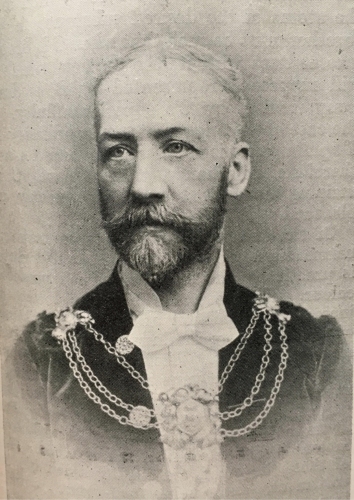 Birth: 12 May 1855 in North Cave, near Hull.
Death: 26 August 1941 in Hull.
Occupation: Architect
Notable Accomplishments: Opened an architectural practice in Hull in 1878. Built many flour mills for his friend, Joseph Rank, including Clarence Mills, Hull. In 1892 he took on Llewellyn Kitchen as a junior partner to set up the architectural firm Gelder and Kitchen. They continued to build flour mills for Ranks, and other clients, and also gained a reputation for building oilseed crushing mills.
Other Actions: Close friend with fellow Methodist, Joseph Rank, and together they were responsible for funding and building new chapels, including Thornton Street Chapel and Brunswick Chapel, Holderness Road. He was elected to the city council on 17th Dec 1895. He held the office of Mayor of Hull five times, the first being in 1899, and was a Liberal Member of Parliament for Brigg from 1910-1918. He was knighted in 1903 and Alfred Gelder Street was named after him.
Attributes: 'under his very able and skilful guidance it (Hull) has grown to be a place of wide and well-planned streets and spacious buildings…Time and energy have been lavishly given…but the result has been to him an ample reward, although no one ever more greatly deserved the Knighthood which was conferred on him…a self-made man, Sir Alfred's life is a fine example to be copied…he is widely respected and esteemed by all classes.' (Manning, pp.131-132)
Personal Life: Married Elizabeth Parker in 1877. Together they had two sons, Alfred E. Gelder, born 1880; Harold Edward Gelder, born 1884; and one daughter, Ethel Dorton Gelder, born 1890. Two other children died during infancy. Elizabeth died in 1934 and Alfred did not remarry.
Find Out More: Pearson, Lynn, Victorian and Edwardian British Industrial Architecture (Marlborough, 2016).
Manning, C. A., Yorkshire Leaders: Social and Political (London, 1908).