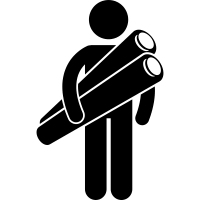 Birth: 1869 in Manchester.
Death: 14 February 1948 in Hull.
Occupation: Architect
Notable Accomplishments: He worked for many different companies before becoming chief assistant to Alfred Gelder in 1892 and they soon formed a partnership to found the firm Gelder and Kitchen. Together they were responsible for building and re-modelling many flour mills, including Clarence Flour Mill, Hull; Victoria Flour Mills, Grimsby; and Foster's Mill, Cambridge.
Other Acts: The company of Gelder and Kitchen also built other buildings including factories, breweries, and places of worship. Kitchen himself designed the Neo-Georgian Town Hall Chamber on Alfred Gelder Street in Hull in 1902. He became a Fellow of the Royal Institute of British Architects in 1903 and was elected President of the York and East Yorkshire Architectural Society in 1919. He was a member of the Freemasonry and held the position of Prior of the Provincial Priory of North and East Yorkshire from 1934-1949. Wrote a book for private circulation called A Ritual of Craft Masonry, 'Humber Use' (1935).
Attributes: According to Pevsner, the quality of work of Gelder and Kitchen, 'seems to have improved when Llewellyn Kitchen became a partner in the 1890s' and other commentators agree. (Neave, David and Pevsner, Nikolaus, Yorkshire: York and the East Riding (London, 1972).)
Personal Life: Married Adelaide Mona in 1892 and had four daughters: Dorothy Mona Kitchen, born 1893; Marjorie Kathleen Kitchen, born 1896; Olive Marguerite Kitchen, born 1904; and another girl, possibly called Gretta. Adelaide died in 1945, aged 79, and Llewellyn remarried Maud Mabel Southern on 4th March 1946.
Find Out More: Pearson, Lynn, Victorian and Edwardian British Industrial Architecture (Marlborough, 2016).
Assorted editions of Hull Daily Mail.