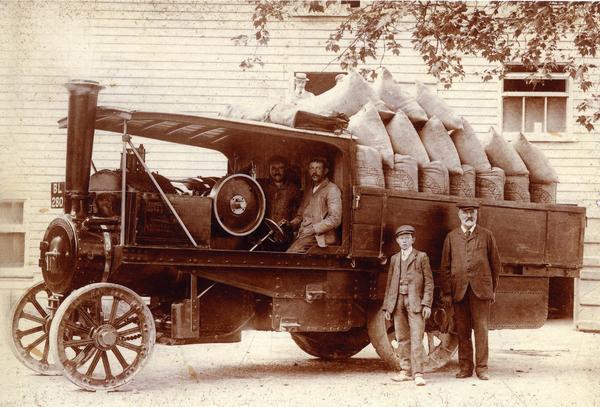 Chris Viney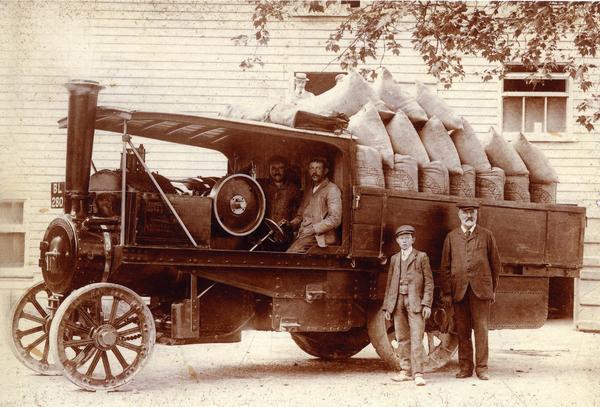 Sonning Mill – Steam Traction Engine, 1890 (Mills Archive Collection,
EIGH-SON-02-007)
This photograph shows a steam wagon outside Sonning watermill. The wagon is called Catherine Cooper; it was produced by Foden Trucks, a British truck and bus manufacturing company, and is an overtype steam wagon. The man on the right is the mill owner Mr Witherington with his son, whilst the man in the cab is Jim Girdler.

One of Sonning Mill's largest flour customers was Huntley and Palmers biscuits in Reading. As this was relatively close but too far to carry the flour by hand, they needed a suitable way to transport it to the factory: the steam wagon was perfect for this role.

Traditional mills had always been local to the community they served, however, as milling became more industrialised and the number of mills became fewer, developing transport links became crucial to their operation. Mills began to be built on canals so that flour and grain could be transported on barges, then with the development of steam railways, many mills built their own auxiliary lines to connect their mills to the main network. For shorter journeys most would still rely on the horse and cart, until the development of steam wagons.

Steam wagons developed in the early 20th Century and were very popular until fading out of production in the 1930s. There were two types: 'undertype' which had the engine below the cab, and 'overtype' which looked more like a cross between a lorry and a steam traction engine. Foden's produced their first steam lorry in 1900 and built their last in 1935, by which time they had made a total of 6,500 wagons.