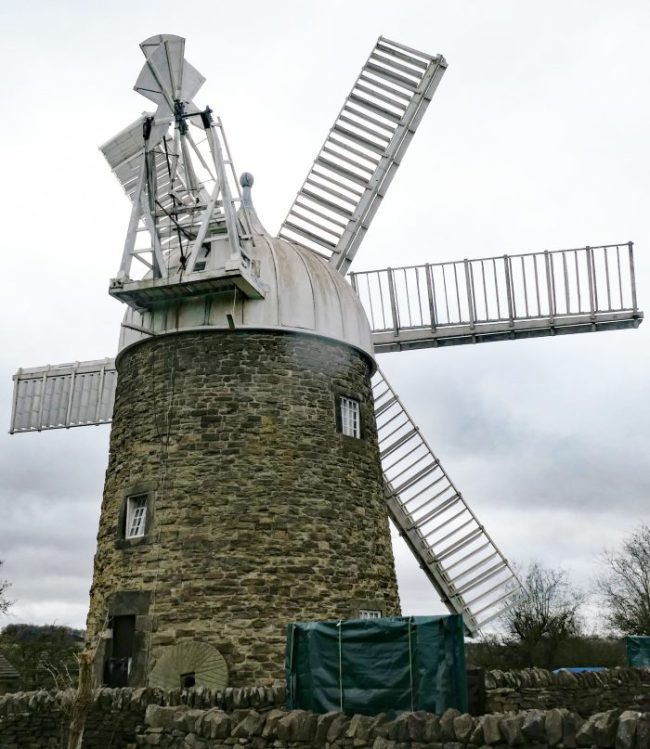 Alan Gifford
(Founder Trustee)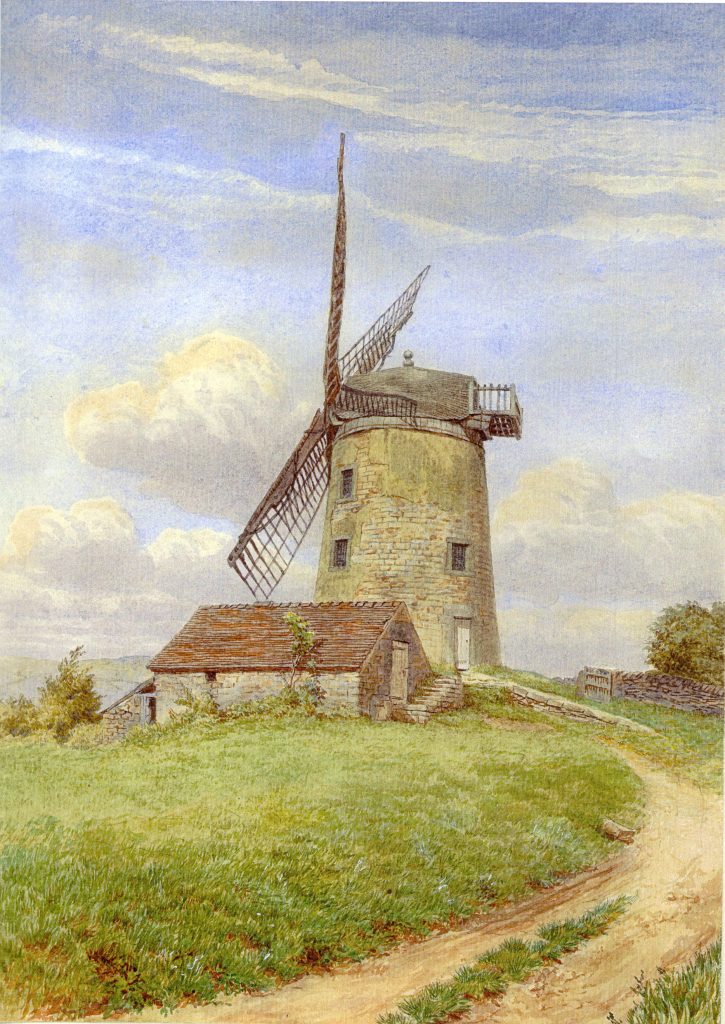 Heage Windmill, near to Belper in Derbyshire, was built in c 1795 and worked until 1919. It was partially restored to present a good visual image by its owners, Derbyshire County Council, in the early 1970s. This work did not involve any internal machinery or permit the cap to rotate in the wind. The Grade 2* mill was then only accessible on occasional public days and also by arrangement.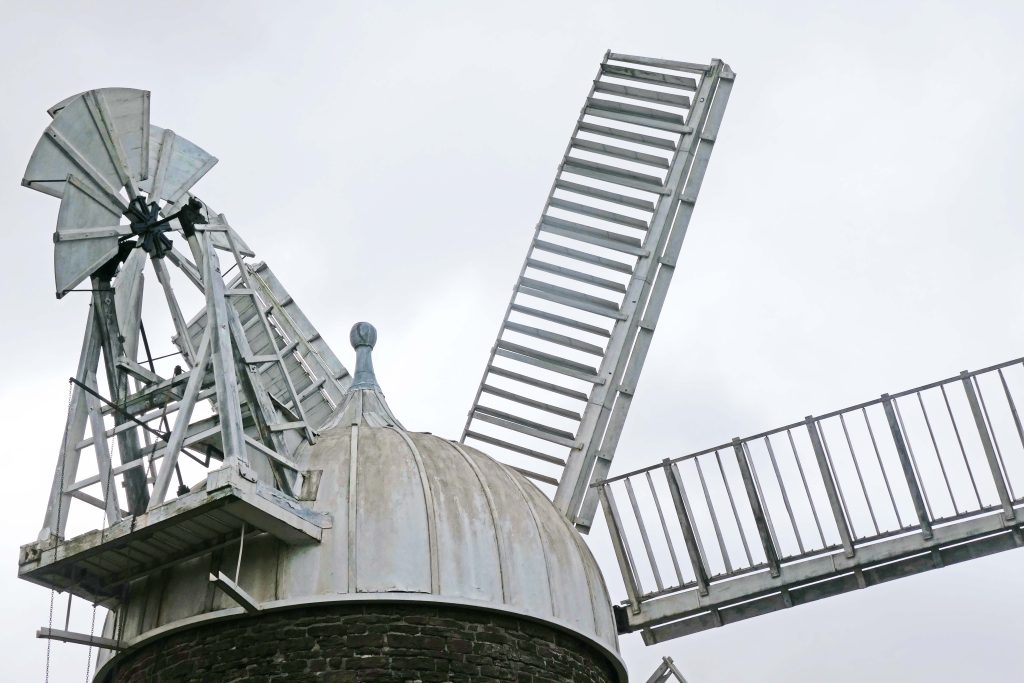 In the 1990s the Midland Mills Group, who acted as occasional guides, recognised severe problems of water ingress and lack of general maintenance leading to the formation of Heage Windmill Society in 1996, as a charitable trust. The objective was to restore the mill to working order. Major funding was obtained from the National Lottery Heritage Fund, English Heritage, WREN and other sponsors plus fund raising by volunteers. In all, this raised some £430K to enable the restoration of the six sailed windmill. In addition, a new access road and essential services were provided.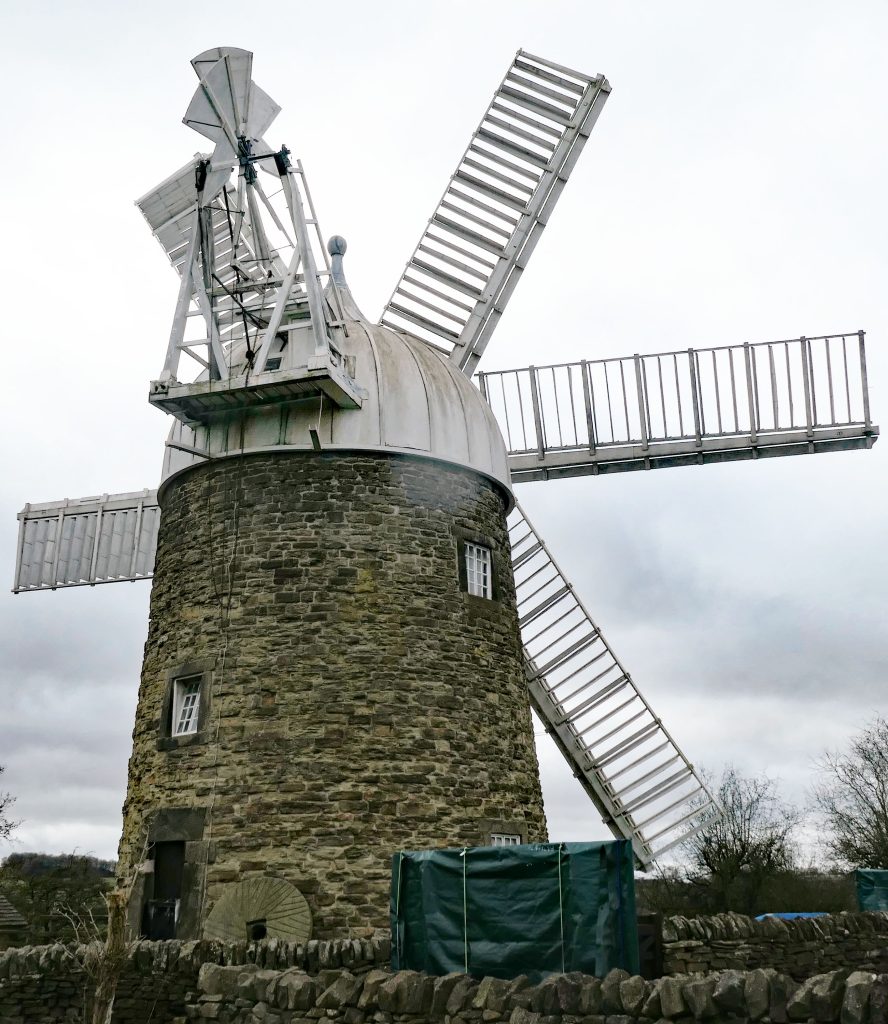 The restored mill was opened to the public in May 2002 and since then she has grown to be one the major tourist attractions of Derbyshire, run and financed entirely by the work of volunteers. The Chair of the Friends of Heage Windmill pointed out in his annual report that looking at Trip Advisor and Google, the windmill has had 50 reviews in 2022 – 44 Excellent and 6 Very Good. The milling of flour has been a great success and its quality was endorsed by being featured on 'The Hairy Bikers' TV show. The mill has been opened from April to October at weekends and Bank Holiday Mondays for over 20 years. The mill has since been maintained by visiting millwrights and by our own very competent maintenance team.

Our experience has been marred by problems associated with modern timbers and severe wet rot has been encountered in the patent sails and in structural members of the cap. A pair of new sails was made on site by our own maintenance team, funded largely from trust finances.
For a number of years, we have been aware of wet rot in the projecting parts of the sheers carrying the fan stage and supporting the sails.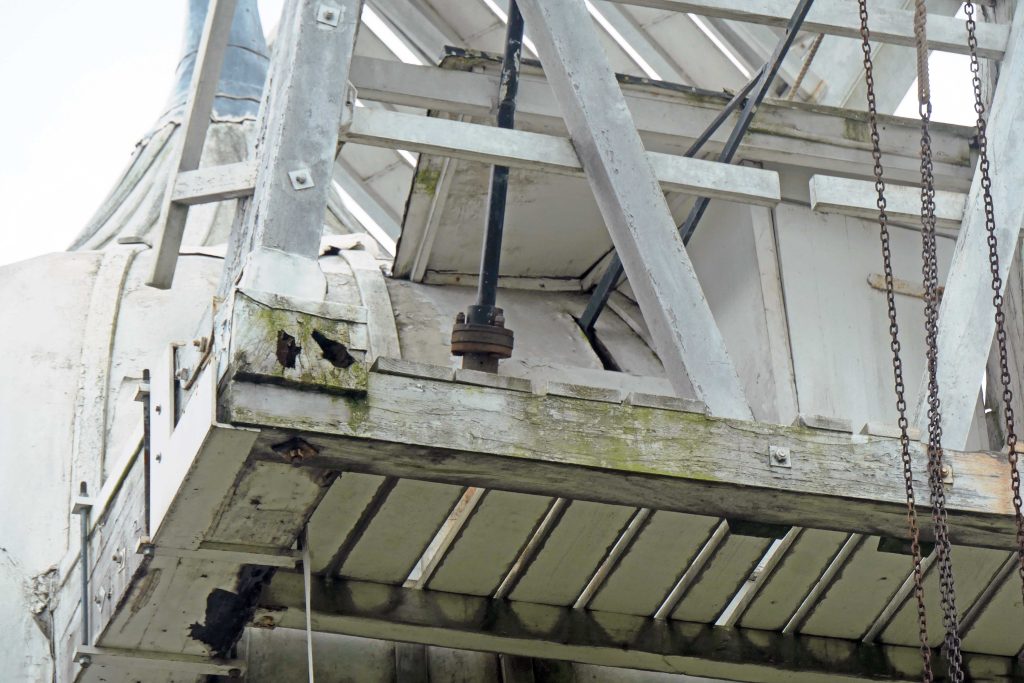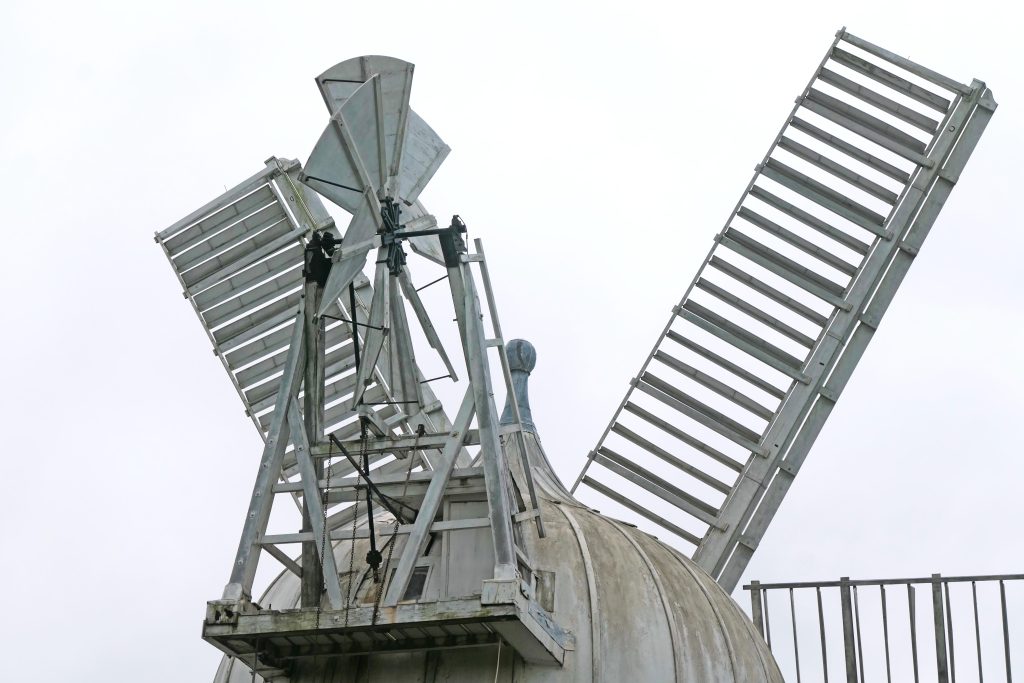 Various methods of extending the life of these timbers by fitting external bracings etc have been adopted but it has been clear that inevitably it would be necessary to replace the sheers. These were installed in situ in 1995 by the millwrights R Thompsons but current H&S requirements dictate that this now needs to be carried out at ground level, with sails and cap removed. This was obviously beyond the skills or physical ability of our own team and outside help was sought. We found the distance of the mill from most current millwrights has made their involvement doubtful or difficult. We finally decided to embark on the project using a local Civil Engineering firm being guided by our own experts. In addition, Historic England have added the mill to their Heritage At Risk register.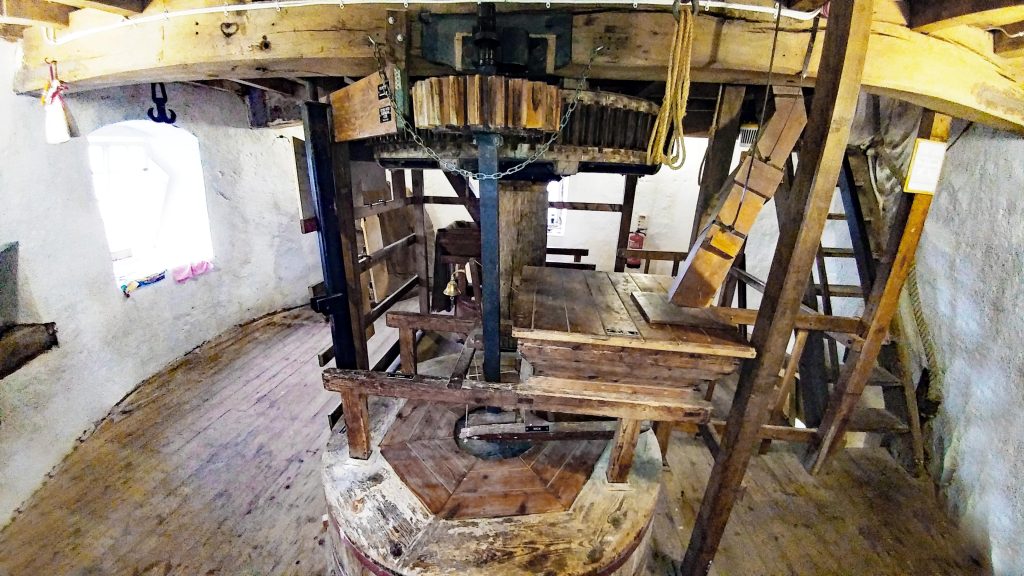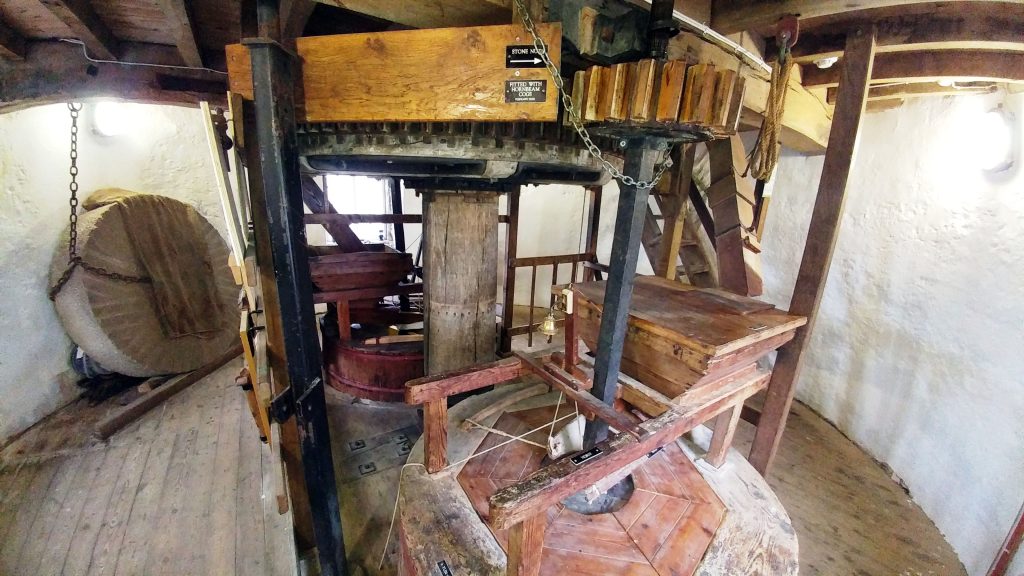 We needed to determine the availability of funds estimated as c £200K. Here we hit trouble – the major bodies who financed the original restoration appear to have changed their policy and do not make funds available for what is deemed 'repair work'. HWS have been prudent and over the years have built up an emergency reserve and are able to contribute £60K and have determined a further support of about £50K.

Through a scheme run by the local Derby University and funded by European money we have been able to obtain the services of a graduate intern who has identified a number of potential funders and is pursuing these. We are also re-launching a 'GoFundMe' page with details on our website to add support. After the major funders have been contacted the plan is to then contact local councils and businesses. We recognise that the present difficult national financial situation may make further funding difficult and are looking for support from the many visitors we have at the windmill to help cover our financial short fall.

Unfortunately, there will be roughly 12 weeks when we are not able to mill and therefore not have the flour to sell.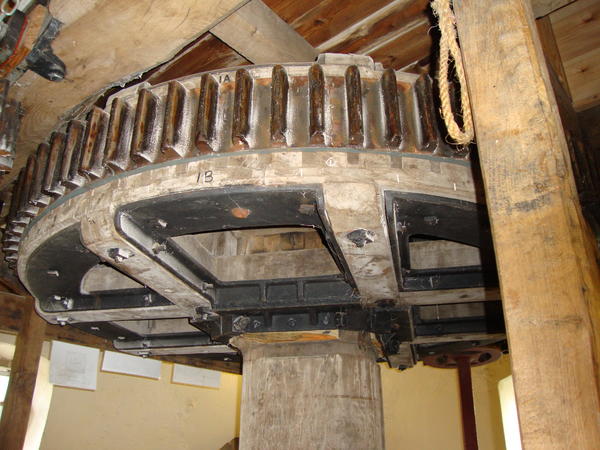 However, we remain optimistic about having our mill back in full working order as she is very popular both locally and with visitors. If you would like to help our quest the ways you can donate are on our web site www.heagewindmill.org.uk.