Author: Hannah Pearce
A tale from the Archive… You fall head first into a 6ft deep ditch, full of muddy water, with the bike that you had just been riding crashing down on top of you. Your shins are grazed, your forehead is bruised, and you are feeling a little bit wobbly. But you still need to scramble up the side of the bank and check if you have damaged any of the equipment you are carrying. You are now living the life of windmill enthusiast Arthur C Smith. How did you get yourself in this situation?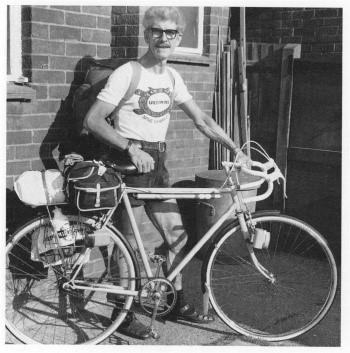 Well, Arthur took it upon himself to survey the remaining windmills across the country, to note down their type, condition, and where they were located. He did the majority of this exploration by bike, so that is how you ended up muddy, wet and a little bit dazed. But do not despair! You will soon find a helpful fence made of barbed wire to hang your clothes, and will be clean and dry.
Previously on the agenda, you have visited your respected friend and authority on Norfolk corn mills Harry Apling. Your own notes on windmills are well organised and detailed, but you feel that Harry has the most comprehensive file system, and manuscript on 800 Norfolk corn windmills. You talk for so long that there is only time for a cup of tea before you dash off to visit the next windmill.
Later on, you come across a drainage mill at Belaugh, Old Hall Farm. The mill is derelict and covered with ivy, like so many other mills you have come across that have been left to fall into disrepair. The fate of most windmills seems to be this, or conversion into what you would frequently comment as "ugly" buildings. You talk to Mr Rose, father of the tenant farmer, and he informs you that 2 escaped prisoners had once taken temporary refuge there. He also tells you that he had tried to clean the ivy of the mill, but the owner said that he would rather blow it up! This windmill has quite the history.
Thankfully, there are still some people such as yourself who appreciate windmills for the extraordinary combination of building and machinery that they are. This reminds you of a time where you visited a windmill in Norfolk, owned by Mr Sidny and Mrs Kathy Sandell. They were given a copy of your Norfolk drainage mill book as a wedding present, and even had a mill made out of icing on the top of their wedding cake! These were true mill people.
However, you do not have to be a mill enthusiast to appreciate this tale. I am not a mill enthusiast, but I feel as though I know Arthur after reading through his collection at the Archive. Thank you to all those who continue to support the collections, so that stories like Arthur's continue to connect with people.