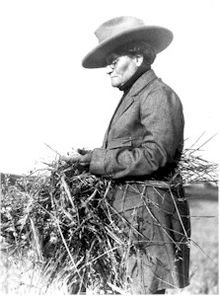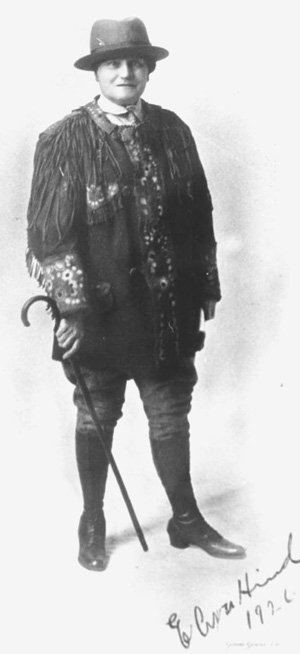 Ella Cora Hind was born in Toronto in 1861 to parents Edwin and Jane, with Huguenot and English stock on one side and Irish Loyalist on the other. She and her two younger brothers lost both parents at an early age. After their mother's death they moved to Artemesia, Grey County, Ontario, to live with their paternal grandfather Joseph and Aunt Alice on his mixed farm.
Cora grew very close to her grandfather, who talked to her about the fields and the flocks and she developed a deep love of the soil as well as an interest and understanding of crops, horses and cattle. They lived off livestock and grain, which was hard, but a good education for a growing child, as some years were better than others.
As they were several miles away from school, Cora's education was delayed until she was eleven, so Alice taught her at home until 1872 when they built a school on her grandfather's land. Later Cora attended high school in Orillia, Ontario, living with her uncle George, then moving with Alice in 1882 to Winnipeg, intending to become a teacher. However, she was not daunted by failing to gain the necessary qualification as she secretly had dreams of becoming a journalist.
Alice made a living as a dressmaker and this brought them enough income to live, whilst Cora tried to break into journalism. She carried a letter of introduction to W F Luxton, then editor of the Winnipeg Free Press, expressing a desire to write, but he discouraged her, saying that the newsroom was no place for a woman. A few months later, she submitted an article to Luxton – he accepted her letter but did not acknowledge her as an author. This situation forced her into teaching herself to use the new office machine, the typewriter, ending up as the first public stenographer in Manitoba. By 1893 she had opened her own business as a stenographer, and acted as public secretary to among others, a number of farming organisations. A significant step forward came in 1898 when she travelled west to report for banking and business interests on the effects of a late crop.
However, her application for employment with the "Free Press" (as it was known in the North American journalism world) moved nowhere until 1901 when John W Dafoe was appointed editor-in-chief and appointed Cora market and agricultural reporter. In 1904 the Free Press published her first crop estimate and with it Cora made her name. Black Rust, a new disease to prairie wheat fields had damaged the crops – A US expert had visited the affected areas and estimated the crop would total about 35 million bushels. Cora and her editors disagreed – Cora carried out her own personal examination of the fields and estimated the yield as 50 -55 million bushels – and this estimation proved to be spot on! For the rest of her career Cora was known as an authority on agriculture, livestock and wheat yields. Her opinion influenced prices on the Winnipeg Grain Exchange and western crops.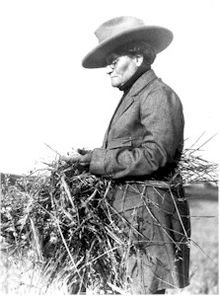 All this work came at a cost – her work of crop inspection made heavy demands on her moral courage, as commented on by John W Dafoe in his foreword to her book "Seeing for Myself". Her reports were anathema to the so-called "boosters" and "knockers" because they affected the market adversely to their interests. In one season, when she was unable to find the superb crops pictured by the optimists she was called "Calamity Cora" by her critics. It was that year that the editor of the Free Press was prevailed upon to suppress her reports not because they were incorrect, but their publication was inexpedient. In the event her estimate was completely correct – she true to form, remained cool and philosophical throughout.
Cora did not confine her studies to the New World – she spread her wings worldwide and examined how other countries handled and marketed Canadian wheat and investigated marketing prospects for other Canadian farm products, especially cattle. In 1922 she was tasked to make a study in Great Britain on this very subject. This proved highly successful and led to ideas to provide the newspaper's readership with information on Canada's competitors, which would prove useful to Canadian agriculture generally.
This manifested itself in 1935, when the Free Press charged Cora with a world-wide mission – her straightforward instructions being to look into agricultural conditions of the world wherever a study of them would be useful to Canada. She could go where she wished and take as much time as she liked. Any concern that this was asking a lot of a lady in her 74th year should be put into the context that once Cora had been known to say that she never set out for anywhere that she failed to reach! So, between 1935 and 1937 she travelled to 27 wheat producing countries passing on her experiences, including comments on social conditions and historical associations in a series of letters to the Free Press, a selection of which were released in her 1937 book Seeing For Myself. Dafoe called this "the crowning achievement of this long period of distinguished service by Dr Hind". Into this one volume was poured the experience of more than three decades of the study of agricultural conditions, experiments, and developments in Canada; it is still regarded as fascinating reading to this day worldwide. On her return, the Winnipeg Grain Exchange went so far as to grant her a perpetual pass to the trading floor of the Exchange.
Away from agriculture, Cora was a member along with her aunt of the Women's Christian Temperance Union, working hard to improve the lives of woman and the poor. This led to her involvement with politics, first forming the Manitoba Equal Suffrage Club with Dr Amelia Yeomans and forming the Political Equality League in 1912, along with Lillian Beynon Thomas and Nellie McClung. Their campaign for women's voting rights were granted in 1916.
Cora was granted an honorary Law doctorate by the University of Manitoba in 1935. She was also granted an honorary diploma from the Manitoba Agricultural College and was an honorary life member of the Canadian Society of Technical Agriculturists. The United Grain Growers created the Cora Hind Fellowship for research in agriculture and the Free Press created the Cora Hind Scholarship in home economics.
When she died aged 81 on October 6th 1942 trading at the Winnipeg Grain Exchange was halted in her memory for two minutes.
Sources:
Seeing for Myself – E Cora Hind
Foreword to Seeing for Myself – John W Dafoe
Archives of the Agricultural Experience – University of Manitoba
Encyclopaedia of the Great Plains
Northwestern Miller (7th October 1942) – Obituary
Wikipedia – Ella Cora Hind