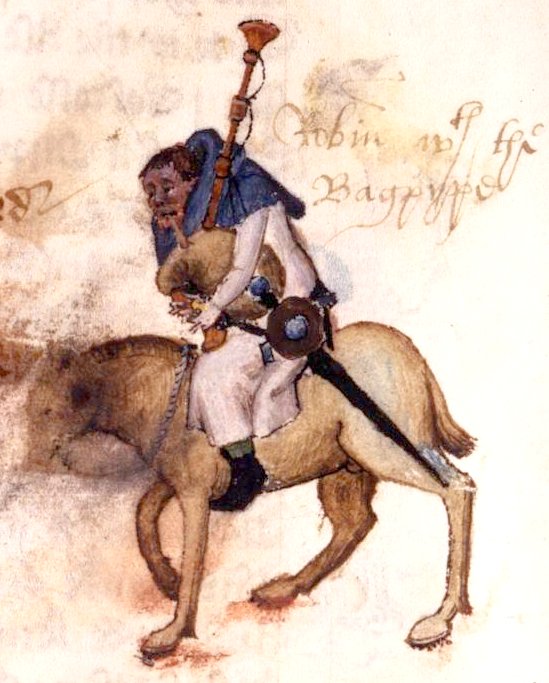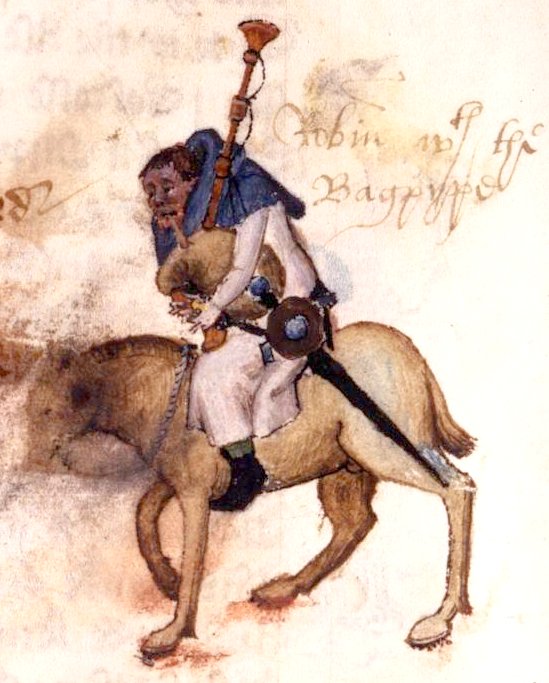 Millers in medieval times were often stereotyped as rogues and thieves.  Two vivid descriptions of contemporary medieval millers appear in The Canterbury Tales[1] by Geoffrey Chaucer[2], which captures the essence of medieval society in an Easter pilgrimage procession to Canterbury Cathedral.  To entertain themselves, as they walked, the pilgrims played music and recounted stories and folk tales from all over Europe, often with a moral or maxim at the end. 
The Host describes thirty people commonly seen in medieval society, including Robin the Miller in the procession and the story of Simpkin the miller punished for stealing flour in the Reeve's Tale. Here is a composite physical description of the two millers and a miller's wife, their status and personalities.
Chaucer's Miller and his wife described
The miller is "a chap of 16 stone, a great stout fellow, big in brawn and bone". "Broad, knotty and short-shouldered who could heave a door off hinge and post or take a run and break it with his head". He is "round faced, with a puggish nose and bald". His "red beard was broad, like a spade". He has "a wart on his nose that had a tuft of hair like the bristles". "His nostrils were black and wide".
The miller is "a Master hand at stealing grain. He feels it with his thumb and knows its quality; takes three times his due – a thumb of gold" He is in the 'habit of stealing corn and meal' and poaching deer. He is a drunkard, 'a churl[3] with no manners' who shouts and swears and is 'full of filthy tavern stories'. He is 'a wrangler[4] and a buffoon[5]' and 'a market bully that none would go near'. Wrestling competitions and match fights were popular at fairs and fetes. Robin 'could win a ram at any wrestling show'.
He wears "a hood of blue and a white coat"[6]. He likes to "play the bagpipes[7] and also fished, mended his gear and turned a lathe. He is as "proud as a peacock because he has married well". He walks in front of his wife with his hood up wearing scarlet hose, while she walks behind, dressed in red. She was "nobly born", but illegitimate, as her father is the town Parson, a celibate priest, who gave a dowry of brass dishes. She sneers at other women who should respect her for her well-connected family and nunnery education. Their twenty year old daughter is the Parson's heir to all his property and land.
Robin was armed with "a sword and buckler by his side".[8] Simpkin had a sword in his belt, a knife in a pouch[9] and a Sheffield[10] dagger in his hose. He was known as Sim the Swagger as he might attack someone in a jealous rage for jesting with his wife. The sword, buckler and Sheffield dagger would also have been worn for self-protection. Medieval England in the 1380's saw many rebellions against feudal lords[11]. The countryside was lawless[12] with the fear of ambush by cut-throats and highway robbers. Bands of armed men terrorised the countryside and, even neighbourly disputes, could descend into violent raids.
---
References and sources
[1] The Canterbury Tales: translated into modern English by Neville Coghill/ Geoffrey Chaucer.- Penguin Books, 1951
[2] Geoffrey Chaucer (c1340-1400) was a courtier in the King's service a knight of the shire of Kent and a Justice of the Peace. His patron and protector was John of Gaunt, Duke of Lancaster as Chaucer had married the sister of Gaunt's third wife. Catherine Swynford. He died in 1400 and is buried in Poets' Corner in Westminster Abbey. He wrote the Canterbury Tales as an allegorical poem written c1386/7. It is one of several poems that Chaucer wrote or translated during his lifetime.
[3] A peasant
[4] A wrestler
[5] Someone who plays to the crowd
[6] The illustration shows the costume worn by Robin the Miller. The coat was Roman style woollen tunic which was pulled over his head. This would have been belted and the hood was linen dyed with woad. He wore leather shoes. Original 2D miniature illustration: unknown 15th century artist. Photographic facsimile by the Henry E. Huntington Library and Art Gallery. Public Domain, https://commons.wikimedia.org/w/index.php?curid=18869829
[8] Sword and buckler were weapons used in medieval fencing or duelling. http://www.miekkakoulu.fi/en/sword-and-buckler/#:~:text=Sword%20and%20buckler%20fencing%20is,century%20well%20into%2016th%20century.
[9] It was common for medieval people to carry a small knife in a pouch for cutting things with, eating food, whittling wood, picking their teeth etc.
[10] A Sheffield dagger was made of sharpened steel and would have been a prized possession. Sheffield steel was the best.
[11] The most well-known rebellion was the Peasant's Revolt in 1381 in which several millers were protagonists as well as victims.
[12] The Pastons and their England/ H S Bennett.- 2nd ed.- CUP, 1932