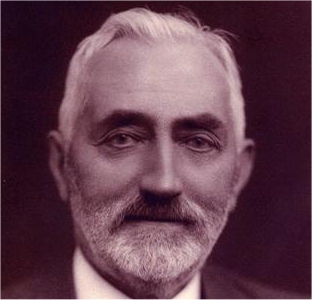 The Cornwell Collection contains items created or collected by the Cornwell family. This family had a long association with milling that started with William Cornwell in the 19th century and continued down through to his sons and grandsons. The history of William Cornwell, including his association with the Sun Flour Company, is preserved through the items within this collection and this is his story…
Early Years
William Cornwell was born in 1851 in Littlebury, Essex. He received his early training in milling at a mill in Ickenham, Essex with the miller Joseph Wisely. This training consisted of learning milling on traditional millstones as the roller mill revolution that would sweep through Britain had not yet taken place. When it did take place, William Cornwell was managing a small Stone Mill of 5 pairs of stones in Waltham Abbey, Essex. He was working for Mr. Wright who had leased the mill from Mr. Charles Brown. This lease came to an end in 1883 and the Brown family decided that they wanted to mill Waltham Abbey themselves and, along with mills in Chelsea and Waddon, formed the company, Charles Brown & Co. Ltd. William Cornwell was kept on as Manager at the Waltham Abbey Mill but it was now part of this bigger company.
owever, this company did not last long. Due to 'unforeseen circumstances, a rearrangement of the present Company became necessary, whereby Mr Charles Brown took over the Waddon Mill, leaving the Waltham Abbey and Chelsea Mills to the New Company then being formed' . William Cornwell played a role in the formation of this new company, called Sun Flour Mills Co Ltd. after Sun Street, where Waltham Abbey Mill was located. The Chelsea Mill was upgraded to the roller system by Henry Simon Ltd and the mills prospered.
Bromley-By-Bow
On Christmas Eve, 1888, the Waltham Abbey mill was completely destroyed in a fire. 'This occurrence) – unfortunate as it was in many ways) – was ultimately realized to be a Blessing in disguise, as the Mills situated as they were some 1½ miles from the nearest railway station, and 1 mile from the canal, were not in a good position commercially to cope with the competition then becoming apparent' Therefore, the Waltham Abbey mills were not rebuilt and a new location was looked for in London. This resulted in the Sun Flour Company buying 'a range of Buildings which had for many years been used as a Rice Mill at Bromley by Bow'. Messrs. Simon were again hired to install roller machinery, this time a 12 sack plant, and Messrs Pollit & Wigzell were given the order for a Steam Power Plant. This mill opened in 1889 and was shortly updated to 20 sacks per hour after the lease on the Stanley Bridge Mill in Chelsea was not renewed.
This mill at Bromley-by-Bow did not suffer the fate of the other mills William Cornwell had worked at. Instead, this mill prospered for quite some time:
'Under the direction of Mr Baker and myself, and in spite of the many obstacles – pecular (sic) perhaps, only to our own Company – the trade continued to expand, and a further increase in capacity of the Mills to 30 sacks per hour was decided upon in 1907.
Still a further steady and persistent demand continued for the Company products during ensuing years, and it was realised that a further increase in size would be necessary to deal with the increased trade, and in 1917 a further increase in the capacity of the Plant to 40 sacks per hour was made.'
Whilst working for the Company, William Cornwell gradually worked his way up and from Manager, he became a Director and then a Managing Director. At the time of his retirement in 1926 he was a well-respected member of the Company and his 'loyal and devoted services' were praised in the certificate of appreciation presented to him on his retirement (CORN-10).
Retirement
Despite having retired from the Sun Flour Company, William Cornwell had not retired from milling. Whilst working for Joseph Wisely back at the beginning of his career, he had married Mr. Wisely's sister's step-daughter, Mary Ann Lofts. Whilst at Bromley-by-Bow they had four children, Ernest, Maude, and twins, Archibald (Archie) and Arthur. Ernest had followed his father by working for Sun Flour Mills and becoming a Director. He was a well-known figure at the Mark Lane Corn Exchange and was even described as the 'best dressed man on the Corn Exchange'. Archie meanwhile, had also gone into the milling business and worked a mill in Saffron Waldon. Arthur had not followed the milling tradition as he owned a grocery business. However, this all changed after William Cornwell retired from Sun Flour. Feeling the need of 'providing the family with a profitable occupation', he bought a 5½ sack flour mill at Uxbridge, Middlesex (CORN-01). This mill was known as 'William King Ltd.' and both Archie and Arthur became directors of it as the family business grew.
William Cornwell died in 1933 with the mill left safely in the hands of his sons. However, both the mills he spent his life working for no longer exist today. In the 1950s. Allied Mills took control of the William King Flour Mill and it was eventually closed down in 2001. Meanwhile, Bromley-by-Bow was purchased by J. W. French in 1941 and in time would become part of Spillers French Milling Ltd. However, a dramatic explosion on 7 August 1965 destroyed the mill, killing 4 people and injuring 38 more.
The Collection
Whilst the mills and companies he worked for have not survived, William Cornwell's story has. His family preserved and added to his material which was then donated by Guy Cornwell, son of Ernest and grandson of William, to the archive. Many of the items within this collection are of note. There are milling flow charts from both the Bromley and Uxbridge mills showing the formation of the machinery within these mills. Also present are photographs of both mills, their machinery and the Mark Lane Corn Exchange. Whilst other items, such as 'A short survey of the Sun Company' and the Certificate of Appreciation on his retirement, have helped to piece together his story and the story of the Sun Flour Company. It is an important collection and an important story showing how one man and his family adapted to the arrival of roller machinery.
Sources:
Cornwell, William, A Short Survey of the Sun Company (1926): CORN-08.
Letter from Guy Cornwell to the Mills Archive: CORN-01.
Certificate of Appreciation on retirement for William Cornwell: CORN-10.
The Brown Family: Ten flour mills in one hundred years, Peter Sinclair (2017)