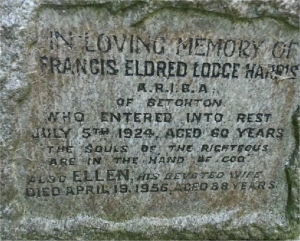 Birth: 5 May, 1864 in Chelmsford, Essex.
Death: 5 July 1924 in Congleton, Cheshire.
Education: Attended the Merchant Venturers College in Bristol and the Bristol School of Art. In 1887 he passed the qualification to become an Associate of the Royal Institute of British Architects (A.R.I.B.A.).
Occupation: Architect
Notable Accomplishments: Started an independent architectural practice in Chelmsford in 1889. In 1897 he was hired as architect to the Cooperative Wholesale Society so moved to Manchester. In this role he designed parts of Dunston Flour Mill, Gateshead, Silvertown Flour Mill, London, Avonmouth Flour and Provender Mill, Bristol, and many other mills (including textile mills). He was one of the first in Britain to use reinforced concrete construction, as developed by Hennebique. Both the grain cleaning house at Dunston and silos at Silvertown were built using this method.
Other Acts: Designed many other structures for the CWS including their central offices, branch offices, drapery warehouses and other factories, including a bacon factory in Tralee, Co. Kerry. As head of the CWS Architects department, he trained many assistants, who went on to become practising architects themselves. Served as hon. auditor, along with Mr. Alfred Hartford, for the Bristol and Clifton Junior Architects' Society in 1884. Fellow of the Manchester Society of Architects. Member of the Concrete Institute, 1909-1922.
Personal Life: Married Ellen, c.1891, and together had at least one daughter, Ethel Mary Harris.
Find Out More: 'Obituary', Journal of the Royal Institute of British Architects, 20 September 1924, p.651.