This week has seen me draw from one resource that the Archive houses in large numbers for our roller mill history project: namely postcards. A search for 'postcard' in the online catalogue returns with 6304 results, and there are more that have not yet been catalogued. These items provide a wealth of information and can be a key resource, both for the image on the front and the message – when it's written – on the back.
The first postcard that was of use to me this week was actually of a windmill, not a roller mill. When compiling a history about roller milling in New Zealand, soon to be published online, I came across a glass plate negative of a windmill in Auckland on the online catalogue. This provided evidence of milling on the North Island before roller milling was introduced and, as such, was relevant to the work. However, there was no other information about the mill with the image and, as it was not actually a roller mill, I did no further research on it. Then later in the week a volunteer, knowing I had been researching New Zealand, showed me a postcard they had found of a windmill in Auckland. It turned out to be the same mill and the person who had sent the postcard described it as one of the oldest landmarks in Auckland. It transpired that this windmill had been built in 1850-1 and its destruction in 1950 was a catalyst for the creation of the National Historic Places Trust in 1955, still in existence today under the name Heritage New Zealand. If it were not for a postcard written in 1920 describing the mill as one of the oldest landmarks in the city, I would have missed this relevant and fascinating information highlighting just how important this mill was.
Used postcards, such as the one just mentioned, are helpful for the information they include. This could relate to a mill or just give us a glimpse into the past and daily life. The other useful thing they include is the date. Most examples are dated, either by the author or by the postmark added once sent. This date then allows us to approximately date the image on the other side and see how different mills have changed over time. Carr's Mills, Silloth, is one such example. This mill, built in 1887, is still working today for the Carr's brand. The plant is modern with vast silos and warehouses yet c.1906 it consisted primarily of just three buildings, as seen in the postcard here. The postmark for this particular postcard is 1906, meaning the image must come from then or earlier. Considering the first major expansion of the mill took place sometime between 1902 and 1931, when Theodore Carr was head of the company, it is likely that this image shows what the mill first looked like after being built, before any extensions had taken place. This postcard, and others like it, therefore allow us to view the progression of certain mills and how they have altered over time.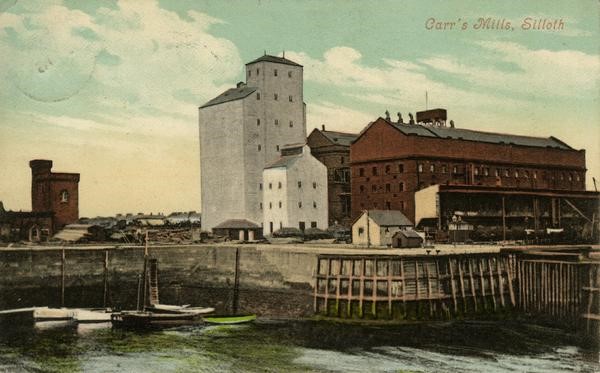 Furthermore, sometimes these postcards record more than just a snapshot of earlier days of a mill, they can provide one of the few remaining images or records of some mills. In Pettaugh in Suffolk, for example, there was a post mill that was demolished in 1957. This mill has been well documented and there are many images preserving its past. However, one postcard, shown here, portraying the mill is intriguing given its description. Whilst the eye may be drawn the wind sails, the description of the postcard is 'Pettaugh Roller Mills' and the truck on the left-hand side has 'Pettaugh Roller Mills' written on its side. This image actually shows two mills, the post mill and a steam powered roller mill next to it. This steam mill was in existence for 99 years being built in 1899 and then demolished to make way for housing in 1998. Despite this long life, very little information or images of the mill remain. It is known that at some point it was converted from a flour mill into a feed mill, but quite when this happened is unclear. This postcard contains one of the few records for this particular roller mill, one I would not have discovered were it not for this gem.
So, the humble postcard can be more than just an item bought on holiday and sent to friends and family; they are a source of information about the past, both of social history and as a way to chart the changing landscape.
Sources: