Town Mills, Tonbridge, Maidstone
A water-powered corn mill in the historic county of Kent, England.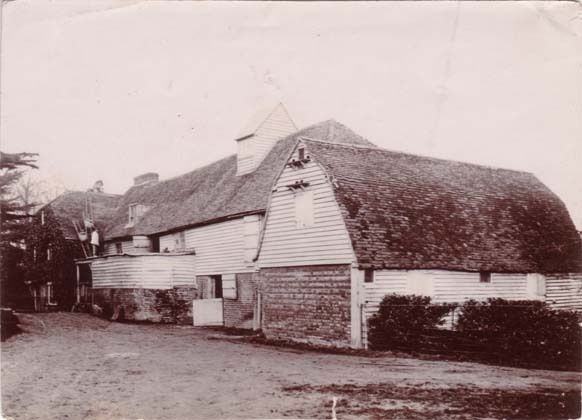 See related images and documents.
See images only.
Millers:
1832 John Sills Charlton
1897 H J Symonds and Co
"Two mills stood very close to each other at the junction of Mill Lane and Charlton Terrace. The older one was latterly known as Old Town Mill, and was built on the site of a windmill, which was burned down in the sixteenth century. The first map appearance of this mill was in 1779, and the mill was probably built shortly before this. It was a picturesque white painted wooden mill with three storeys. It ha a cowl, possibly for a kiln, and one end of the mill building which had a gabled roof. The mill was driven by two iron breastwheels at each end of the building, one from the main river, and one from the mill leat. It had two sets of normal spur gearing, each powering two pairs of stones. One set of machinery was mainly wood; this suggests that the other set was installed or replaced some time after the other one, maybe when the new leat was constructed. The upper stories of the building were demolished in the early years of the 20th century, the one storey brick floor remains, substantially overgrown and very ruinous. Inside, none of the original corn grinding machinery exists, although in one of the wheel pits is an old and interesting turbine. It was manufactured by a firm in Dayton, Ohio, USA, in 1870, and has 24 vertical paddles. From the turbine there is an iron shaft which turned a belt wheel with 24 iron spokes. Unfortunately any further driving machinery has disappeared., but in a small closed brick section there is a horizontal shaft with two small wheels, each cast solidly without arms, and with little 'nicks'(for lack of a better word) instead of proper teeth or cogs. The two wheels are both under 18" in diameter although one is larger than the other. The water supply to the turbine is unusual; there is no head of water for operating. The water goes straight out into a spillway and a pond."
"New Town Mill doesn't appear on any map before the 1866-9 OS Map; it is thought to have been constructed together with a warehouse in 1819 for Messrs Jewhurst and Son, allegedly at a cost of £20,000. It was a five story cream painted brick and weatherboard building with a single storey luccam. It had a large iron breastwheel which drove four pairs of stones through conventional spur gearing. Behind the building was a steam mill, which had a tiny iron Poncelet wheel, but this had gone by 1940. The mill stopped work c.1905, but between 1934 and 1938 it was used to power lathes, and was later used as a plastics factory. It was demolished in 1970 for the widening of Charlton Terrace."
"Both mills were operated from c.1832 by Mr John Sills Charlton. Upon his death in March, 1897, the mills passed to HJ Symonds & Company, who also worked Oxen Hoath Mill in Hadlow."
(Cumming, 1986)
Since this was written, an award winning house has been built over the remains of the Old Town Mill, with the turbine preserved behind glass with a viewing platform.
Full details
Location
Gallery
References
Anthony Bryan, Mills Research Group Database
Cumming, Rob, "The mills of Tonbridge" (Newsletter of the East Kent Mills Group, February 1986, p. 8)
OS 25" Map 1867
Contributors
Rob Cumming, May 2016
Missing information? Click here to tell us about this mill.