4B Braime Components
Full details
Authors & editors
Publisher
Milling & Grain
Year of publication
2022
Languages
Medium
Digital
Edition
1
Topics
Scope & content
Better by design

Founded in the UK in 1971, 4B Braime Components, Ltd. has been an industry leader in developing high quality, innovative, and dependable material handling components for the agricultural and industrial sector. 4B has the world's largest range of bucket elevator components, leading the field in elevator bucket and elevator bolt design and manufacturing the highest quality forged conveyor chains and elevator belting, suitable for the toughest applications.

Their electronics division specializes in level controls, intelligent sensors and safety control systems for bucket elevators and conveyors. 4B components prevent costly downtime and minimize the risk of explosions in hazardous areas.

The 4B Braime Group, a British PLC listed on the London Stock Exchange, has just celebrated its 130th anniversary this year. The company has been a pioneer of the material handling industry, introducing the first pressed seamless steel elevator bucket back in 1909 and since then leading the field in elevator bucket design. Innovation has always been at the heart of the group's ethos, and maintaining their tradition of making better products by Engineering Design, 4B has contributed many innovative products and solutions to the material handling industry, including: the Starco elevator bucket (the world's first low profile elevator bucket using centrifugal discharge on a parabolic elevator head which revolutionized the way bucket elevators work until today), the Bolt 'n' Go chain system (a revolutionary assembly method for drop forged chains using bolt-on flights instead of welding), the Watchdog Elite bucket elevator monitoring system (the world's first hazard monitoring system that could monitor a complete bucket elevator or conveyor system), and most recently Hazardmon, a cloud-based hard monitoring solution…Read more.

Pictures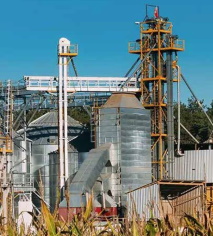 File attachments