We'd like to say a big thank you to those who have adopted a collection in 2017. The New Year feels like the right time to look back at the difference that our supporters have made in looking after the Archive. We are also excited to announce that new collections have been added to the Adopt a Collection campaign…
Collections adopted so far include the EM Gardner, Jon Sass and Gelder & Kitchen Collections. It's been fascinating to see which collections are the most popular so far and the reasons that people have for adopting a specific collection – no two reasons have been the same. The Archive has also benefitted from generous donations to the Collections Fund from people who wish to support collections care without adopting a collection.
Adopters play a vital role in helping to care for all the collections through their donations. Here are some of the success stories of 2017:
Valuable roller milling collection saved from destruction: we rescued original architectural drawings and files from the Gelder & Kitchen architect firm spanning the last 150 years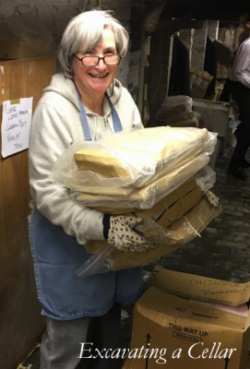 Salvage of one of the nation's most important millwrighting collections: safe storage of the collection of Vincent Pargeter, who was one of the most respected millwrights with a career spanning 50 years (new adoptable collection!)
Antiquarian book repairs: staff training and materials to enable us to make repairs to our antiquarian books (new adoptable collection!)
NEW 2018 Adoptable Collections:
Vincent Pargeter Collection – One of the most-admired millwrights, Vincent's sudden death shocked the mills community. We now have his huge collection of drawings, notebooks and technical drawings and face the task of cataloguing and repackaging these items.
Antiquarian Book Collection – These rare and beautiful books offer important insights into the history of milling. These books require careful repair to preserve the rich information they contain and to allow safe handling by researchers and visitors to the Archive and Library.
There are lots of collections to choose from. To find out more about adopting a collection, click the link: Adopt a Collection
Don't see a collection you wish to adopt?
We are grateful for any donations made to the Collections Fund, big or small. This Fund provides vital finance to look after the collections, such as when restoration work is needed, or to catalogue material to add to the online catalogue.
Or – if there is a collection you'd like to adopt but it isn't currently featured, do let us know.