The Holman family origins
CONTENTS
GENEALOGICAL CHALLENGES
CAPTAIN JOHN HOLMAN'S 'BOOK' WRITTEN IN 1800
Captain John Holman, uncle of the founder John Holman, provided a family history in 1800 for someone researching the family. Geoff used this document as the basis of his research and with his wife, Lynn, brought the family history up to date. However, there is some doubt about the accuracy of the information. Geoff's son, Tim, provided us with a copy of the original document which is transcribed below:
Pedigree of the Holman's Family taken from the Herald Office, 1758 by Francis Holman Herald & Painter.

The Family came Originally from the City of Dorsett in to the Isle of Thanet, by the Name of Auther Holman, in the year 1564, who had A Son Richard from whome come William Holman, of St. Nicholas in the Isle of Thanet Gentleman, who had a son named Laurence, who Married Elizabeth Daughter of Lewes Dededore, Merchant of Canterbury in the year 1631, he left John, son & Heir an infant, who was Married to Jane Brook, who left five sons, the Eldest was a Cooper at Ramsgate – He married Ann Wheeler of Sandwich, from whome come Francis and John, Francis Married Ann Long of Ramsgate, and had five sons, of whome I am one (and only one living) – John Holman who had four sons, only one living, which is Francis Holman Dated Nov 1800 but two grandsons of mine living, Stephen Holman and William Holman –

Family Arms Bear Three Cains or Arrow heads Argent Field Vert with a Chevron on Criss – a Hounds Head Argent Upon a Chapeau Azure up Ermine

Relation to you by me is, your Great Grand Father & my Grand Father was Brothers Children say first Cousins –

or more likely your Great Grand Father & my Grand Father were Brothers – there being five of them – Three I remember in Ramsgate and Two might be at St. Nicholas, which all the Holmans about that way came from, so I think they must be Brothers as there was only one son left who Married Jane Brook which had the five sons –

Written by Captn. Holman of Ramsgate for Mr. William Holman Miller of Ramsgate in the year 1800
To make any sense of this document, we have formed a family tree according to the Captain.
The account of the Holman family is drawn from Geoff's notes and corroborated by the Mills Archive who have done additional research on the early family. Captain Holman's document combined with evidence from census returns shows that the largest populations of Holmans are in the West Country and Kent. However, documents in Canterbury Cathedral Archives and East Sussex Archives suggest that the Holman surname was in Sussex and Kent from the 14th century.
THE DORSET CONNECTION
Evidence for a Dorset connection can be found in a Holman pedigree recorded in A Visitation of the County of Kent, began 1663, finished 1668[1].
Sir Edward Bysshe, Knight, Clarenceux King of Arms recorded the pedigree of Lawrence Holman at the Visitation of Kent, 1663-1668 as evidence of his status as a gentleman and therefore entitlement to bear arms. This shows his grandfather as Richard Holman of Dorset who settled in the parish of St Nicholas, Wade, Thanet. Earlier visitations in Kent, London and Dorset do not include Holman pedigrees; thus the Holman family rose to prominence in the 17th century.
Lawrence was the son of William Holman who married Elizabeth Lisle on 15 December 1631 in St. Martin in the Fields, Westminster[2]. Elizabeth was the daughter of Lawrence Lisle, a London publisher and bookseller, who also collected duties on tobacco imports. His wife, Dorothy, was a member of the Ashby family of Leicestershire and a distant relative of the then Duchess of Buckingham. Elizabeth's brother was Sir George Lisle, a battle-hardened Royalist soldier who commanded a regiment of soldiers and rose through the ranks to become Master of the King's Household after his knighthood in 1645. But he was shot by firing squad on the orders of Lord-General Thomas Fairfax after the siege of Colchester in 1648.
Further research found the marriage licence of 26 June 1662 of Lawrence Holman to Mary Didier[3], daughter of a Huguenot merchant family. It states that he was a gentleman but also that he originally came from London, so the Holman family had already moved out of Dorset before his birth. The Captain believed that John Holman, who founded the millwrights, was a direct descendant of Lawrence Holman through his son John. Unfortunately, that John died aged 1 year old in 1664. Therefore doubt exists and further research is needed. However, with the information we do know, this tree has been constructed up to Lawrence's children.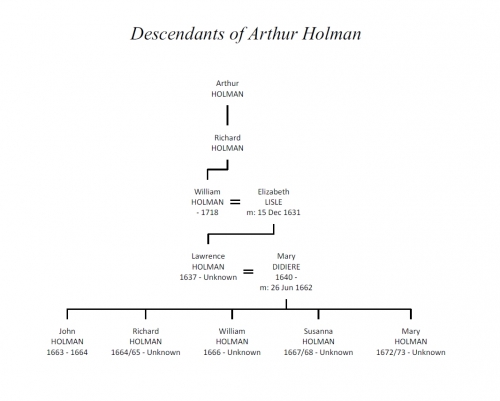 FREEDOM OF THE CITY OF CANTERBURY
We found a record of Lawrence listed in the Roll of the Freedom of the City of Canterbury from A.D. 1392 to 1800[4]. His name is in the section where the Freedom was granted by Gift.According to the citation he was an upholsterer by trade who had become a member of the Common Council by command of His Majesty's Commissioners. Later generations of the Holman family millwrights were also granted the Freedom of the City but John Holman, the millwright had to purchase his Freedom so maybe he could not prove direct descent from Lawrence.
THE HOLMAN COAT OF ARMS
Lawrence Holman is purported to have been granted a coat of arms in 1663. If this happened it was in recognition of his service on the Common Council and possibly helped by his uncle, Sir George Lisle's service to the King.
When an individual is granted a coat of arms, the right to display and use it descends in perpetuity to the direct biological male heirs of that individual until the male line dies out. The arms are given to an individual and not to the surname. Thus the male siblings of the bearer, nor their descendants, can claim the right to the arms. Daughters in direct descent can bear the arms of their father until marriage when their arms are joined with their husbands, if he has his own coat of arms.
The College of Arms records the eligibility of the bearer and is quite stringent on the matter. There were a lot of false claims in the 17th century and the illegal buying and selling of arms. This demeaned an award that was originally granted by the sovereign to those who had provided personal service or protection. The significance of a right to a coat of arms was that it was definitive proof of the status of gentleman, but it recognised rather than conferred such a status, and the status could be and frequently was accepted without a right to a coat of arms.
According to Lynn Holman, the coat of arms was on a tomb or memorial in St. Mary Bredin, Canterbury which was destroyed during the bombing on 12 June 1942. The Captain's brother, Francis, was a painter who acquired a painting of the coat of arms.
LACK OF CORROBORATIVE RECORDS
Lynn Holman had done some research but acknowledged that some of the very early history appears confused and even contradictory. There are also known gaps in the records, and many of the Thanet parish records are not available online. Thus, even known facts are doubtful. Unfortunately, time was not available in this project for a trip to the Archive offices in Kent. If further information becomes available about the early Holman family, then further research would be worthwhile to prove the link between Lawrence and John Holman, Cooper of Ramsgate, who is the earliest verified ancestor.
[Update: Since this page was written, the Mills Archive has recieved additional information on John Holman from Gillian Taylor. Her report, which discusses the accuracy of Captain Holman's book and proposes a father for John Holman the cooper can be found here.]
EARLIEST CONFIRMED ANCESTORS
We have been unable to connect the generations linking Lawrence Holman to John Holman of Ramsgate. This does not mean there is not a connection – for the Captain's account seems to prove a link – but we have been unable to find evidence to link the two. In the early days, Holmans were shipbuilders and mariners. A significant branch of the family settled in Ramsgate and it is from this family that the Holmans of Canterbury descend. This branch became coopers, millers and millwrights. The family tree below records those mentioned and connected with the millwrighting business.
JOHN HOLMAN, COOPER OF RAMSGATE
The earliest verified ancestor is John Holman (b. c.1667), a cooper by trade who married Sarah Wheeler at Woodnesborough, near Sandwich in 1693[2]. She may have been his second wife as the Captain suggests that John also married Jane Brooke but that might have been a previous generation. However, no marriage has been found for a John Holman and Jane Brooke, so this remains unsubstantiated.
The marriage licence for John Holman and Sarah Wheeler confirms his occupation as a cooper and age implies a birth year c.1667. There are two possible births for that date which would warrant further investigation.
It is known that John and Sarah had three sons including Francis Holman, Master Mariner who was born in Ramsgate in 1696/97. It is unclear whether he was a ship builder, mariner, or ship owner. Francis married Anne Long (1707-1757) and had six children including three sons: Francis b. 1729, William b. 1731 and John b. 1733. Francis Holman Snr. died in 1739.
FRANCIS HOLMAN B. 1729, MARITIME ARTIST
Francis became a famous maritime artist whose works are now exhibited in several prominent galleries and can sell for in excess of £50,000. He obtained a copy of a Holman coat of arms from the College of Arms but whether this is for the Canterbury family is unverified.
WILLIAM B. 1731, MILLER AT BOUGHTON UNDER BLEAN
William had three sons: Charles (1774-1851), William, b. 1776, became the Miller at Ramsgate, and John, founded Holmans of Canterbury. Little is known of his time at Boughton under Blean, or indeed which mill he ran. However, the Kent History and Library Centre have two documents (CAN-U424/T9/9 and /10) pertaining to William as miller at Boughton under Blean and warrant further investigation. He was a miller in business at Boughton under Blean until 1795 when the business was liquidated. The first of a string of advertisements appeared in the Kentish Gazette in July 1794.
JOHN B. 1733, SHIP CAPTAIN
John was a master mariner and ship owner. He ran the family shipping business and financially supported the ambitions of his brothers and nephew John Holman, who founded Holman Millwrights of Canterbury. He was well connected through marriage and friendship to other seafaring families and had probably made his money through wars and 18th century merchant trade. He died in 1816 and was buried in St. Lawrence in Thanet, Ramsgate.
JOHN HOLMAN, 1783-1855 (FOUNDER)
John was born in March 1783, the youngest son of William Holman, a miller at one of Boughton under Blean's windmills and his wife Jane Horn[5]. John most probably got his interest in millwrighting from his father.
John went to sea at some stage before being apprenticed as a millwright with a local firm Sweetloves of Wingham in 1806[6].
Sweetloves were millwrights in Wingham near Canterbury, but little is recorded of their history. There are records which show that Thomas Sweetlove built a mill at Deal in 1767 and rebuilt Barming mill in 1805. Later the firm built Chequers mill at Petham in 1821 and another in Deal in 1855. They built several other mills, but the dates of construction have yet to be confirmed. These include mills at Lower Deal, Sandown, Walmer Road and Bodsham Green. There is conflicting opinion as to whether they built Herne mill. The pictures of those windmills built by Sweetloves show a distinct likeness to later Holman mills and it can be assumed that John Holman, in learning his trade with Sweetloves, carried on with similar designs when he set up his own firm. Sweetloves were still active in Wingham in 1858.
John married Mary Ann Bax from a prominent family of Ramsgate mariners on 20 February 1823[2]. He was nearly 40 years old. They had seven children, four daughters (Lucy, Mary Ann, Jane Maria 'Jenny', and Elizabeth) and three sons (John James, Charles and Thomas Richard).
John James, the eldest son and second child, was born in 1824.
The third child and second son, Charles, was born in 1827. He was a draper by trade but went out to Jerusalem with his brothers to build the windmill there. He stayed in Syria and married Esther, a Russian lady. Four of their seven children were born in Jerusalem. They returned to England c.1866 and settled in Croydon where Charles was a draper. He died in 1882 in Kent whilst visiting his sister Mary Ann. [LH Note: …Charles split up with his wife and family including 3 more children who lived in Southampton while he became a Master Draper (an employer) in Croydon and lived with his sister and her daughter in Folkestone in his old age.]
The youngest son and sixth child, Thomas Richard, was born in 1831.
On the 1841 Census, John is living on Dover Lane with his wife and five of his children and is recorded as a Millwright. On the 1851 Census, John, aged 69, is described as a Master Millwright and living with his wife, and his children Thomas and Elizabeth.
John Holman died on 23 September 1855 at Dover Lane. His obituary appeared in The Kentish Gazette, on 25 September 1855.Mary Ann followed in 1859. They were buried in the Non-conformist cemetery in Wincheap.
JOHN JAMES HOLMAN, 1825-1865 AND JOHN JAMES HOLMAN, 1850-1921
Little is known about John James. He was born in 1824, the eldest son and eldest child of John Holman and Mary Ann Bax.
John James joined the firm in 1854 aged 26. However, very little is recorded about his role. There are records showing that he went to Jerusalem to help with the construction of the windmill there.
John James married Catherine Nash at Blean, Kent, on 9 August 1849[7]. He is recorded on the 1851 Census as a millwright. They were living at Oaten Hill, Canterbury with their 11 month old son John James Jnr. In 1861 John James Snr. was recorded living at Dover Street [No. 12] as a millwright employing 16 men and 5 boys. Their children were John James Jnr. aged 10 and Mary Jane aged 1. Catherine's mother Frances Rouse also lived with them and they had a servant.
According to records, John James and Catherine had two other daughters, Katie (1855) and Annie (1857) but both died as infants. Between 1861 and 1865, John James and Catherine had four more children: Lizzie Nash (1861), Thomas Nash (1863), Charles (1864) and Henry (1865-d.1866).
John James Snr. died leaving his pregnant widow Catherine and five children with four under the age of 5. His obituary appeared in The Kentish Gazette on 24 June 1865.
Catherine took on ownership of half the business with Thomas Richard until the latter started a partnership with Albert Collard.
Catherine became a china dealer to support her family. In 1871, her son John James had become a millwright, presumably at Holmans. He was living at 12 St. George's Street with his mother, all four siblings and a servant. By 1881, they had moved to 14 St. George's Street. John James Jnr. was no longer a millwright but an artisan pattern maker and his brother, Thomas was a mechanical engineer. Catherine and her daughter Lizzie were glass and china dealers, whilst Mary was a draper's assistant and Charles was still at school. They had a lodger rather than a servant.
Catherine Holman died on 22 December 1884. After her death, John James, Mary and Lizzie continued to live together. Mary and Lizzie continued their mother's business as glass and china dealers with a shop. John James had returned to his former occupation as a millwright by 1901. By 1911, Mary and Lizzie were no longer in business. Mary was running a lodging house with another lady and John, 'millwright and engineer', was one of their lodgers. Lizzie was a housekeeper to a retired draper. Thomas married and moved to Strood, Kent remaining as a steam traction engineer.
John James died unmarried in 1921, presumably still a millwright. Lizzie died in 1922 and Mary Jane died in 1925. Charles disappears from the record after being committed to Kent County Lunatic Asylum c.1891. Thomas died in 1939.
THOMAS RICHARD HOLMAN 1831-1897
Thomas Richard Holman was born on 27 February 1831 in Canterbury, probably at Dover Lane[5]. He married Frances Branford on 18 September 1860 at St. Paul's Church, Canterbury[7]. Together they had 10 children between 1861-1870: Charles Richard, Bessie Harriet, Harry Branford, William John, Katie Maria, Fanny Holden, Esther Jane, Lucy Agnes, Emily, and a twin son who died aged 3 days.
Frances' uncle Harry Branford was the son of Sarah Sweetlove to whose family John Holman (father of Thomas R.) was apprenticed in 1806. Harry Branford was married to an Ann Elizabeth Holman but so far we have not found out how she was related although one imagines there must be a link.
The following census records show Thomas and his family after his marriage:
1861 – Living at Dover Street with Frances. He is a 'Millwright and Engineer.'
1871 – Living at Dover Street with Frances and children Bessie, Harry Branford, William John, Kate, Fanny, Lucy, and Emily. He is a 'Millwright Engineer (employs 15 men and 7 boys).' [The property is now 13 Dover Street and was the firm's offices, but was originally No. 12.]
1881 – Living at 40 Watling Street with Frances, Harry Branford, William John, Fanny, Lucy and Emily. He is a 'Millwright and Engineer – Master. Employing 18 men and 5 boys.'
1891 – Living at 9 Vernon Place with Frances, Bessie, Harry Branford, William John, Fanny and Annie. He is a 'Millwright Engineer Machinester [sic].'
By 1897, they had moved to Hill Brow, 34 Nunnery Fields where Thomas Richard died on 28 November 1897.
Thomas Richard's obituary ran in The Whitstable Times and Herne Bay Herald on 4 December 1897, p.4, and provides some insightful information about his time in Jerusalem:
According to his Probate dated 20 May 1898 his effects of £6744.12s.11d were left to Frances[8].
On the 1901 Census, Frances is shown to still be living at Hill Brow with her daughter Bessie; and she was still there in 1911, though with her daughter Lucy.
Frances Holman died on 6 November 1915 at 40 Old Dover Road where she had been living with her son William and his family.
HARRY BRANFORD HOLMAN, 1863-1950
Harry Branford Holman was born in Canterbury. He was educated at Canterbury Cathedral Choiristers School and at Southborough near Tunbridge Wells.
In 1880, he joined the business at the age of 17, and on the 1881 Census is described as an 'apprentice to Millwright.' Harry and his brother William were both were Freemen of the City of Canterbury.
Harry Branford married Lilian Fright in 1901. She was the daughter of George Fright who was the station master at Canterbury West station. 'She was brought up in the station masters house adjacent to the level crossing in St Dunstan's. This explains why – when the crossing gates were across the road – she always said that they were open! In July 1886, George Fright was awarded a certificate on the occasion of the Jubilee of the South Eastern Railway and to mark his 41 years of service.' The first family home was at 12 Vernon Place.
Their daughter, Doris Kate, was born in 1901. She joined the firm during the First World War as a bookkeeper, working there until her marriage in 1932 to Herbert William Frank Hooker. He was a miller's son, and the family ran Hookers Mill in Canterbury, Chartham Mill, and the Town mill in Chatham.
Their first son, Frank, was born in 1903.
The family moved to Belle Vue Villas, 38 Nunnery Fields in 1904. This was a large, five bedroomed, semi-detached house. Thomas (Tom) Richard, their second son, was born in 1908. He recalls:
For holidays we usually took a house for a couple of weeks at Tankerton – first in Badlesmore Road and later in Wynn road. Father had a car for business purposes and the family often went out with him on Bank Holidays – but never on Sundays. The open air swimming bath in Whitehall was in regular use during the summer and I used to go there many times in the afternoons after school. It was always advertised as the largest open air bath in Kent being 125 yards long and 25 yards wide. I cannot think that the quality of the water came up to present day standards! The Langton school also had annual swimming events in these baths.
Harry Branford died on 3 July 1950.
WILLIAM JOHN HOLMAN, 1864-1954
William John Holman was born in 1864. He followed his brother Harry to Pennington Hall School.
He was apprenticed, together with his brother Harry Branford, to his father in 1881; both were Freemen of the City of Canterbury.
William John married Sally Penny from Sheerness in 1892. They met when William was working at Ides Mill in the centre of that town. Sally Holman became ill and died in 1911. She had been nursed by Lydia Angell who had trained at the old Kent and Canterbury Hospital in Longport and was later to become the much respected District Nurse. William John married Lydia Angell in August 1914. John 'Jack' Angell was born in 1915.
William John and his family, including a living-in maid, lived at what is now 40 Old Dover Road – a four bedroomed three storied terrace house. As there was only a small garden there, a lot of time was spent in the firm's meadow where William had a vegetable garden.
William had built a beach hut appropriately called Invicta on the slopes at Tankerton and during the summer would spend Sundays there resting and teaching his son Jack to swim. The family would take apartments at Tankerton for the month of August and William would drive to and from work each day. William John was deaf, but coped very well in looking after the steam engine side of the business.
When William John died on 2 October 1954 aged 90 he was called 'Canterbury's oldest businessman'.
THE LAST THREE HOLMAN DIRECTORS
Unfortunately, Geoff had not written many biographical notes or other information about the contribution and work of the last three directors between 1954 and 1975. So this section about the family lacks detail. We would like to know more about these three men and their work. There is further research that could be done in the later Holman Collection in Canterbury.
THOMAS RICHARD 'TOM', SON OF HARRY BRANFORD HOLMAN
Thomas Richard, second son of Harry Branford was born in 1908. In 1931 Tom joined the firm having served an apprenticeship with Ruston and Hornsby of Lincoln. There he met his future wife, Margaret. Their son, Geoff, was born in 1937. During the war Tom could sometimes be found on top of the Westgate Towers manning a machine gun post. If a German invasion was reported, he had orders to blow up St. Dunstan's Street to halt their progress. At other times he was an ARP warden on fire watch duties. He claimed to be one of the only people who had driven a car down the nave of Canterbury Cathedral. This was whilst delivering materials when the firm was carrying out bomb protection work. Tom died in 2000.
FRANK HOLMAN, SON OF HARRY BRANFORD HOLMAN
Frank, first son of Harry Branford was born in 1903. He applied to be a pilot in the war, but was turned down because of his age. He was a member of the Home Guard and an ARP warden. Frank died in 1985.
JOHN ANGELL (JACK), SON OF WILLIAM JOHN HOLMAN
William John's only son John 'Jack' Angell was born in 1915. He gained his BSc in Engineering at University, and then worked for the firm for a year, before, since he was in the Territorial Army, being called up for the war. While serving in the REME in France during WW2, he was promoted to Colonel and was later ADC to the Queen for two years. It was said that if anyone from the firm was called up into the Services, he could be guaranteed a place in the REME if John was informed. He returned to the firm for around three years, then left for an appointment with British Petroleum, while Frank and Thomas Richard continued running the business.
---
Footnotes