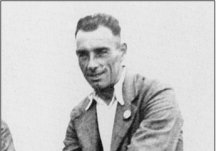 Herbert Edward Sydney Simmons, known to his friends as Syd, was born at Washington, Sussex in 1901. As a young man was a member of the Cyclist's Touring Club, spending his weekends and holidays cycling in the country. It was as a result of this that he became interested in Mills. In 1931 he toured Kent photographing mills, in 1932 East Anglia, taking 148 photographs, mostly of mills, and this continued throughout the 1930s. These photographs were printed on postcards and sold.
Sid worked in the Ministry of Defence. During the war he was in the RAF, stationed in Warwickshire and East Anglia. He continued researching mills after the war, his aim being to put in writing everything to do with mills in the British Isles. He amassed a vast amount of material, although Sussex (his home county), the South East, East Anglia and Lincolnshire were the most thoroughly covered. It was his intention to produce a book on Sussex windmills, but this never happened.
Sid was friends with other mill enthusiasts of the time, including Rex Wailes, Stanley Freese and Denis Sanders. He died in October 1973 at Shoreham-by-Sea, Sussex, his home of many years, and was survived by his wife Edna.
Picture, probably taken around 1935, of Syd Simmons pushing his bicycle uphill beside Winding Bottom in the Adur Valley.
---
Dolman, Peter, "Simmons Collection" (Suffolk Mills Group Newsletter, 54, July 1992, pp. 12-13)
Nicholas, Nick, "Some Notable Mill Authors & Historians" (Suffolk Mills Group Newsletter, 55, January 1993, p. 2)
Simmons, Edna, Memoir of H.E.S. Simmons (July 1974)
Related content