Post mill, Nutley
A wind-powered corn mill in the historic county of Sussex, England.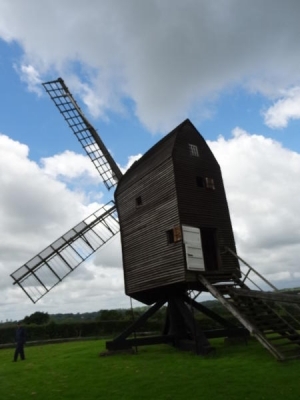 See related images and documents.
See images only.
A small post mill located on the edge of Ashdown Forest, Nutley Mill was restored by a band of skilled volunteers between 1968 and 1972 and has since been maintained in full working order by the Uckfield & District Preservation Society. The mill is one of five remaining open-trestle post mills in the country. The centre post of the mill has been dated by dendrochronology (tree-ring dating). It was shown to have begun life as an acorn in 1410 and was eventually felled in the mid-16th century.
The mill is clad with brown weatherboarding and a simple tailpole and talthur are employed to turn the mill body into wind. One pair of sails (known in Sussex as 'sweeps') are of the spring-shuttered type and the other pair are common sails, manually spread with canvas. In operation, each sail must be stopped at its lowest point to allow the shutter tension to be adjusted or the canvas to be spread across the sail frame. The sails are mounted on stocks at the head of a cast-iron windshaft which carries both head and tail wheels. Both wheels are of the wooden clasp-arm type. The millstones at the rear (tail) of the mill are of Derbyshire Peak and the head stones are of French Burr. A flour dressing machine, also on the millstone floor, is driven via a layshaft by the tail wheel.
Full details
Location
Gallery
References
Anthony Bryan, Mills Research Group Database
Related shop products
Related publications in the library
Missing information? Click here to tell us about this mill.