Milling journals of the past. Mr J Cooke's Pinsley Mills, Leominster
Full details
Authors & editors
Publisher
Milling & Grain
Year of publication
2022
Languages
Medium
Digital
Edition
1
Topics
Scope & content
The edition of MILLING published Dec 23rd 1899 points out that the mills at Pinsley had a history almost as old as the town which claimed them as one of its most honoured industries. The town of Leominster (pronounced Lemster) takes its name from a monastery which existed there from 638AD.

Founded by the King of Mercia, in 1125 the monastery became a cell to the Benedictine Abbey at Reading in Berkshire. Leominster is between Shrewsbury and Gloucester, with three rivers running through its boundaries, the Lugg, the Arrow and the Pinsley on which the mill was situated.

The corn mill had carried on until sometime between 1744 and 1748, when the mill was then owned by Daniel Bourn who successfully operated it as a cotton mill. In 1754 it was destroyed by fire and was then rebuilt and returned to its original function as a corn mill….Read more.

Pictures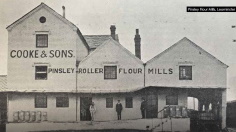 File attachments