Bogasari Flour Mills. Technological advances help millers meet consumer needs
Full details
Authors & editors
Publisher
Milling & Grain
Year of publication
2019
Languages
Medium
Digital
Edition
1
Topics
Scope & content
By Roger Gilbert, Publisher, Milling and Grain

As new generations come to the fore, changes occur and no more so than in the milling industry. Milling and Grain visited Bogasari Flour Mills in Jakarta, Indonesia earlier this year to report on the refurbishment of three of its 15 production lines by Ocrim. The current upgrade is not just about new equipment and the latest technology, it's also about the changing aspirations and purchasing trends of local consumers.

Perendale Publisher's CEO, Roger Gilbert, talked to Franky Welirang, CEO of Bogasari, which is part of PT Indofoods Sukses Makmur, about his views on the future of flour milling as it tries to meet the food demand from a country with 262 million inhabitants spread out over 5,245 km from west to east and encompassing 16,000 islands… Read more.

Pictures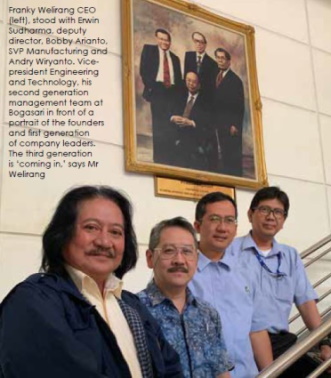 File attachments