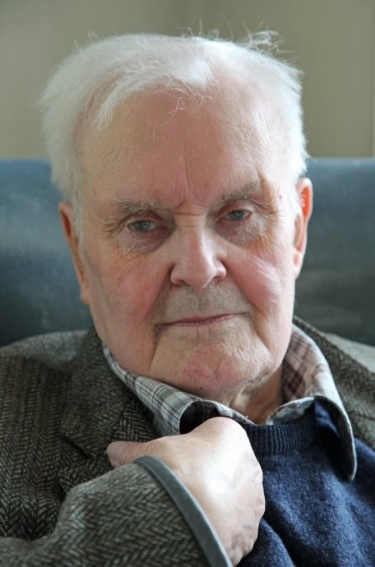 James died on 31 Dec 2014. He was a Friend of the Mills Archive and a close friend of Stanley Freese who died in 1972.
James Venn was born on 30 December 1921 at Furze Platt in Maidenhead. He was a keen photographer with a particular interest in all matters related to transport. His interest in photography was heightened as a result of his friendship with Stanley Freese, a very keen and able amateur photographer who between 1933 and 1950 took hundreds of photographs throughout the country of landscapes, agricultural work, trees, buildings, windmills, watermills, and railways. They shared an interest in windmills and worked together on early repairs to those at Brill and Pitstone. Stanley Freese is perhaps best remembered for his book Windmills and Millwrighting. He was still repairing windmills when he died suddenly and unexpectedly in 1972. In his will he left James all his books, maps, manuscripts, notes, sketch books, a vast collection of negatives and prints, which altogether filled five tea chests and took several years to sort, catalogue, and preserve!
As he looked at this fascinating bequest James conceived the idea of continuing from where Freese had ended, but to concentrate on the county of Buckinghamshire. His plan was to make a systematic survey of the whole county, parish by parish, making a pictorial record not only the general characteristics of each place, but especially those features not likely to be the subject for other photographers. This covered factories, shops, public houses, schools, chapels, farms and filling stations, especially anything likely to disappear in the near future and the much neglected areas of 19th century and early 20th housing. Town centres had long been well recorded by professional photographers, especially High Wycombe, but it was the dreary terraced houses and back streets that were invariably overlooked.
Source: An extended biography of James on the Buckinghamshire County Council website at http://tinyurl.com/mzb4kcf