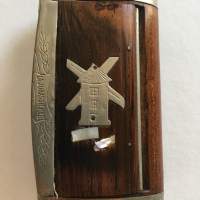 A Pandora's box that contained toxic tobacco.
This Gem is a miller's snuff-box, inlaid with a beautiful and intricate windmill design, as well as some mother of pearl. Snuff boxes such as this could be highly detailed and would require the skilled work of silversmiths, jewellers and enamelers. According to the engraving, this one comes from the Jura region of France: an area known for its fine small-scale woodwork. Workshops in the area produced many snuff boxes like this one with a huge variety of inlaid designs such as flowers, clovers and rural scenes including mills.
Snuff is ground tobacco that you inhale rather than smoke. It was popular from its introduction in the 18th Century through to the 19th both with the upper classes and those whose jobs would make lighting a cigarette or pipe an extremely bad idea. This included deckhands on the wooden sailing ships of the time, miners and millers working in their highly flammable mills.
Snuff boxes were popular from the 17th to the 19th century, and they remain a popular collector's item today. They come in various shapes and sizes; most were small for personal use, and some were even integrated into jewellery. There are also larger designs for communal use – one example being the snuff box at the door of the House of Commons which continues to provide free snuff to MP's, a practice dating to the 17th Century where smoking was banned from the Commons.
Snuff itself was produced in both windmills and water mills. To make snuff, tobacco leaves are bound together, dried and matured, then ground into a fine powder by the mills, either using traditional millstones or by driving a large pestle and mortar like the one in the drawing to the right.
Gem from the Mildred Cookson Foundation Collection