"Newport's cattle market had not seen anything like it before. There, talking business among the weather-beaten faces of Isle of Wight farmers, was a woman."
This Gem is a newspaper cutting from The Southern Echo, a regional tabloid newspaper covering Hampshire and the Isle of Wight. The article, which was published on 14th March 1978, looks back to an Isle of Wight lady called Mrs Emma Weeks, who operated Upper Calbourne Watermill by herself whilst looking after nine children in the early 20th century. Following the death of Emma's husband, the miller, in 1903, she was left to care for their four boys and five girls, who were all under the age of 12 years old. Taking over her husband's watermill was a matter of neccessity, as she was left with no other way to put food on the table and a roof over her family's heads. Unfortunately, back in 1903 a woman's place was traditionally seen to be in the home, especially in rural farming communities like on the Isle of Wight. In the article, Emma's last surviving son, Ronald, recounts that she used to go to Newport market on a pony and trap to get orders from farmers who wanted grain crushed for their animals, but she was not easily accepted by the community:
'Some were very suspicious of a woman getting involved in such matters but she had to do it. There were mounting debts to be paid and there was no social security those days.'
We can imagine how hard it must have been for Emma, caught between the options of being judged and scorned by her community or not being able to support her children; but obviously, her children had to come first.
When her boys were old enough, Emma brought them into the business and taught them all about how to operate the watermill. They began at the age of 16 on one shilling a week. Emma continued to be involved in the business, looking after the accounts up until shortly before her death at the age of 77 in 1943.
Emma Week's mill, Upper Calbourne Watermill on the Isle of Wight is one of the oldest mills in the country: a mill had been recorded at that site in the Doomsday book. The stopped commercial operation in 1953 after the government stopped granting subsidies to Country Mills, and was eventually turned into a heritage attraction. The mill and rural museum still runs demonstrations and produces around 30-40 tons of flour for local farmers markets and the gift shop.
Gem from the Press Cuttings Collection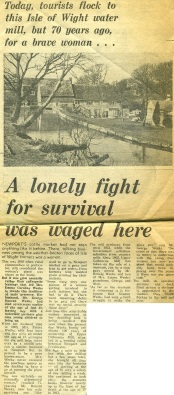 Related links