Working on the collection
The Peter Dolman collection has been catalogued in stages, with many areas still awaiting work. In 2008 Archive Manager Luke Bonwick described the work that was then being carried out on the collection:
RECENT WORK ON THE PETER DOLMAN COLLECTION
From Mill Memories issue 3, August 2008
Since acquiring the Peter Dolman collection in 2002, cataloguing work at the Mills Archive has proceeded at a pace. Much of this has been undertaken by one of our volunteers from Hampshire who has devoted many hundreds of hours to listing, scanning and cataloguing Peter's photographic and documentary material.
A task which took two years to complete was the digitisation of 2800 prints of Suffolk windmills which date from between the turn of the 20th century and the 1970s. They include internal views of mill gearing and equipment as well as exterior views of the mills and the people who owned and operated them. This is probably the most comprehensive collection of Suffolk mill photographs that is presently available for inspection by researchers. Every picture can be viewed through our website catalogue and high-quality copies can be requested; computer-sceptics can make an appointment to visit our research centre and inspect the original documents.
Peter's Lincolnshire windmills collection has also been digitised, catalogued and made available on the web catalogue, serving another important role as a gateway to other collections containing related material, such as that held at the Museum of Lincolnshire Life at Lincoln.
CREATING FINDING AIDS FOR ARCHIVE USERS
Attention has now turned to the research notes, drawings, correspondence and other documents in Peter's collection. These have been transferred to a series of albums and reorganised according to date and subject matter. Each individual item has been briefly described and added to a digital list known as a 'finding aid'. The lists can be examined using our website catalogue and – more importantly – can be searched for a particular subject, person or mill, simply by typing in a key word.
A fascinating set of correspondence between Peter Dolman and Arthur C. Smith – whose collection is also held by the Mills Archive – relates to windmills throughout East Anglia and runs from 1973 to 1990.
---
Further work on the collection was carried out by Chris Wheeler, archive volunteer who won a 'Vodafone World of Difference' award to work on the collection in 2011:
DOLMAN, WHITMORE AND BINYON
From Mill Memories issue 8, June 2011
First, let me introduce myself, my name is Chris Wheeler, and I am one of five hundred lucky winners of the Vodafone World of Difference UK programme. This programme aims to help charities by allowing people such as myself to work there on a full time basis for two months. I have been working at the Mills Archive for the previous six months gaining work experience as a volunteer for two days a week. So for me to be able to work here at the Archive on a full time basis and to give something back is fantastic.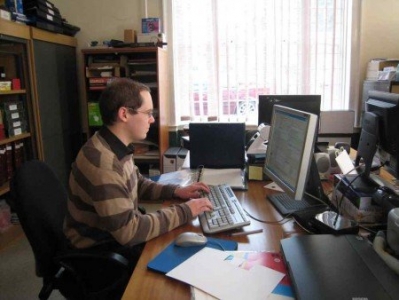 Due to Peter Dolman's love of Suffolk and its wind and water mills, it meant that he took many photographs of the different mills in the area. Consequently, these all need to be sorted, scanned, indexed and then stored properly in albums. I am only just beginning to realise how many Suffolk windmills begin with the letter B……. let's just say that Peter took plenty of photographs of them!
During Week 3 a member of the public expressed an interest in the collection that Peter had on Whitmore & Binyon, so it shows that I must be doing something right! Whitmore & Binyon were a company set up by John Whitmore in the late 18th century that produced milling machinery for all sorts of wind, water, steam and flour mills. The company was based in Wickham Market, Suffolk, and later acquired offices in London, and was one of the foremost companies in producing milling machinery throughout the 19th century. Sadly, at the end of the 19th and early 20th century, the company went out of business and all the property was sold off at auction.
Most of this week I have been scanning, digitising and cataloguing many photographs that Peter took of various windmills and watermills that used Whitmore & Binyon milling machinery. The one thing that did strike me whilst sorting through all this material is just how rapidly Whitmore & Binyon declined as a company. The company steadily increased its output of milling machinery throughout the early to mid 19th Century until the introduction of new iron roller mills in the 1870s and 1880s. In this period the company really took off, and built an astonishing 45 new roller plants by the mid–1890s, reaching its zenith. The amount of Whitmore & Binyon advertisements that I came across in Peter's collection show this to be true! Yet just a few years later, at the dawn of the twentieth century, the company had closed down. It is a sad story and sadly reminiscent of today's world.
My role is not just limited to scanning and cataloguing – quite often there is quite a bit of research work and to be carried out where I have to use my initiative. Some of the photographs and drawings of machinery and mills that I have come across in the past two weeks have been unlabelled. Thus it takes a bit of investigative work to search through our catalogue and see if they match up with any of the existing mills on the database.
You can also read the blogs Chris wrote during his time working on the collection.