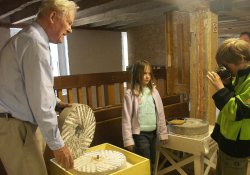 Author: Kimberley Neate
Born in 1926, almost in sight of the Pluckley smock mill ruin, Paul Jarvis became fascinated by this ruin from an early age. Later in life he learnt that his maternal grandfather had run the mill for a short time, before becoming a farmer in 1926. Jarvis recalls sitting on his grandfather's knee studying English windmills, vol.1 by M.I. Batten, a book that he kept his whole life.
Jarvis's paternal grandfather was a carpenter by trade, who had two windmills and other prime movers to drive his woodworking machinery. At this time he was using a steam engine which Jarvis enjoyed stoking. He recalls being delighted at seeing the long since gone Headcorn smock mill working, and later on the now preserved Willesborough mill and the tower mill at Stanford in the 1930's.
Although it would be many more years until he entered a working windmill, Jarvis was already familiar with a local provender mill which his father had assisted in installing. As a result of this Jarvis became familiar with many aspects of wood and metal working techniques in the old tradition, these being invaluable millwrighting skills.
Paul left school during the war and worked in a power station in Ashford, Kent, the beginning of his lifetime career. He was called up and served for several years in the Royal Signals, later returning to his career in the power industry. He moved from diesel to coal fired stations, finishing up at the two Dungeness nuclear power stations as an operations engineer during commissioning.
As a result of his flourishing career his passion for mills had to take a back seat. That was until the 1970s when he found himself able to put more time and effort into his interest. He joined the newly formed East Kent Mills Group, soon became its chairman and was also involved in the maintenance and public demonstration of Stelling Minnis Windmill and Crabble Watermill. He also joined the SPAB section and TIMS. After some years he felt very privileged to be invited to join the section committee and elected as its chairman.
Paul Jarvis died in June 2014.
---
Jarvis, Paul, "Section News", (SPAB Wind and Watermill Section Newsletter, 71, April 1997, p. 4)
Related content