Ling Mills, Wortham
A steam- and wind-powered corn mill in the historic county of Suffolk, England.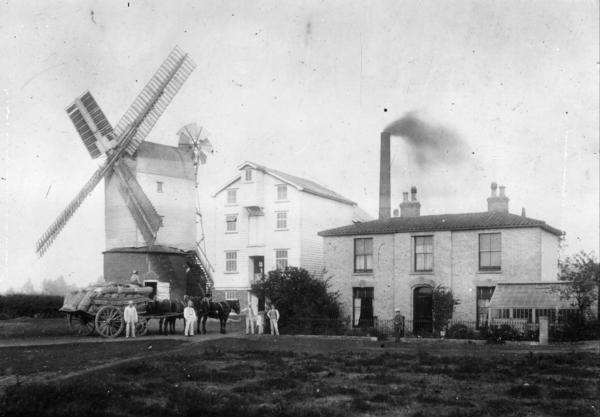 See related images and documents.
See images only.
The oldest mill in the parish, being shown on Hodskinson's map of 1783. This mill, a post mill, was rebuilt about 1825, probably gaining its roundhouse. A magazine article in 1896 claimed the mill to be 200 years old. In the 1830s it was owned by James Robinson and when he had financial problems in 1852 it was sold to John Fisher. In 1855 it was acquired by Benjamin Youngman (Fisher' son in law), who built a small steam mill soon afterwards, this being gradually enlarged until in 1896 it was converted into a roller mill. In 1890 Ernest Youngman took over from his father, retiring in 1909. The steam mill was driven by a condensing steam engine, and was still there in the 1930s although the last directory entry is for 1916. The windmill had patent sails driving three pairs of stones and following the erection of the steam mill the fantail (which keeps the mill facing the wind) had to be mounted on the roof. The windmill went out of use before the Great War, losing its sails, and was pulled down in 1918. The steam mill had 2 pairs of stones, later increasing to four, then a roller mill in addition, finishing as a 3 sack Tattersall roller mill. The engine house still stands alongside the mill house and smaller miller's cottage.
Full details
Location
Gallery
References
DOLM-12607 - Wortham mills
Missing information? Click here to tell us about this mill.