Swallow Mill, Little Chart
A water-powered corn mill and oil mill in the historic county of Kent, England.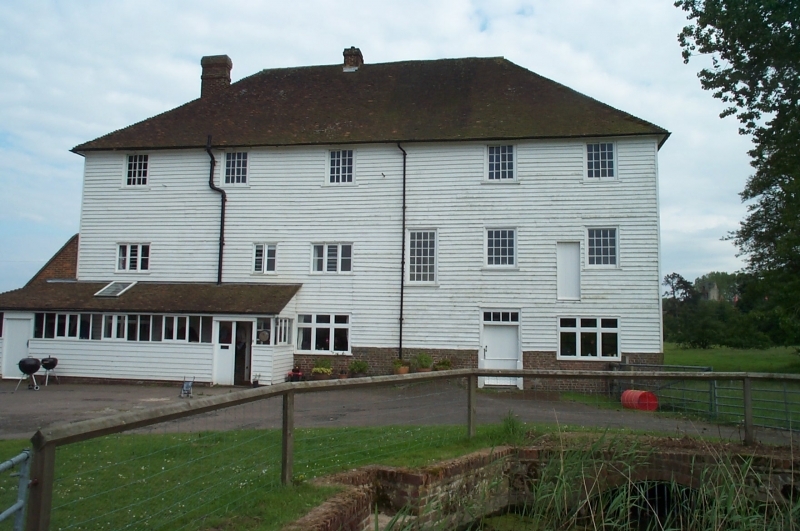 See related images and documents.
See images only.
Millers:
1845 John Large
1874 Thomas Hills
1887 John Hooker
1891 Thomas Hills
1922 Mrs Georgina Hills
From Simmons Coll'n:- "It is very interesting;has a wooden griped arm pit wheel. The water wheel is an all-iron breast shot about 20 feet diameter and 4 to 5 feet wide. The shell which exploded in the mill did damage which has been repaired. The motive power is electricity, but stones are not used. All the gear is very old. Mr Hill has the mill" (Sidney Ashdown, 1946). "Swallow Mill. 18th century building. 3 stories high, having brick walls up to the first floor and weatherboarding above. Present owner Mr Thomas Hills. Still works, by electricity. Wheel still in, large wooden undershot about 25 feet high. Was an oil mill at one time" (Goodsall, 1953, pp. 23-24). "The oil part of Swallow Mill was the other side of the wheel, driven by cross-shafting upstairs" (HRH, 1952). Rob Cumming visit 1985 :- "The mill is a very picturesque building, a continuous range of mill and mill house, but when I enquired at the mill house, the owner said the mill was gutted of machinery before the war. But, when I looked though the window, however, I saw an enormous wooden pit wheel." Rob Cumming Visit 2007 :- "Externally the structure is identically well kept as of 20 years ago. I remain convinced that internally it is complete. Owner not in, guard dog on duty."
Full details
Location
Gallery
References
Bryan, Anthony, Mills Research Group Database
Goodsall, Robert, The Kentish Stour (Cassell, 1953)
Contributors
Rob Cumming, May 2016
Missing information? Click here to tell us about this mill.