Burnt Mill, Lenham
A water-powered corn mill in the historic county of Kent, England.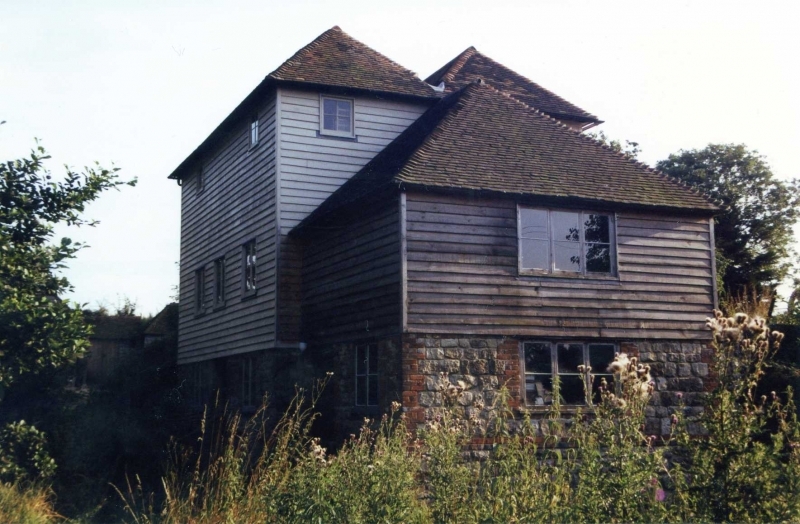 See related images and documents.
See images only.
Millers:
1855 John Tanton
1891 W Tanton
From HES Simmons Collection, contributed by PD in 1939 :- "Small iron overshot wheel made by John Hill in 1863, is outside. Old fashioned split damsel. No auxiliary power. Mr Russell and I visited the mill on Sept 20th, 1938. Mill was running driving one pair of peak stones and grinding oats. The mill was in fair condition. Mr Tanton (aged 84) told about the mill."
"The machinery and the wheel are still there, but the building itself is in a very bad condition, and will not stand for many more years." (Alan Stoyel, 1964)
Rob Cumming Inspection 19/10/1985: - "The mill was a white weatherboarded building with a brick first floor. Unfortunately the roof caved in around 1976, and while the owner was deciding what to do with it, the whole mill collapsed in a storm. The owner and his son have since embarked on a massive programme of restoration, and the brick first floor has already been rebuilt, and the timber is onsite for the upper stories. A workshop has been constructed adjoining the mill. Luckily when the mill collapsed, the hurst frame was strong enough to protect most of the machinery. The wheel is an overshot 10ft 6" iron one made by Hills of Ashford in 1863, but most of its buckets have rusted away. The wheel pit is full of junk and the rack and pinion sluice gate has collapsed. The cogpit remains complete, being well supported by the hurst frame. The pit wheel and wallower are of iron, but the spur wheel is wooden. There are two solid wooden stone nuts and one iron one, working with two pairs of governors. Mounted on the frame are three pairs of stones, and jutting out of this is the very solid wooden upright shaft, with an iron crown wheel on top. Also on the remains of the stone floor is the reel of a flour dresser. Another damamged dresser remains outside the mill with the dismantled sack hoist. One pair of stones was power driven. The mill allegedly finished work in 1958. Owner is Mr Swift."
Rob Cumming Inspection 15/8/1986:- " The hurst frame is now giving way, because of the weight of the stones above. One pair has already gone through and smashed the spur wheel in half. The stones will have to be lifted off if they are not to cause any more problems."
Rob Cumming Inspection 9/1990 :- " The upper two stories have been successfully re-erected, and look authentic. No work has been undertaken on the more specialist job of the machinery, which is slowly rusting away."
Full details
Location
Gallery
References
Alan Stoyel, Mills Archive Foundation Trustee
Contributors
Rob Cumming
Missing information? Click here to tell us about this mill.