Periwinkle Mill, Milton Regis
A water-powered corn mill in the historic county of Kent, England.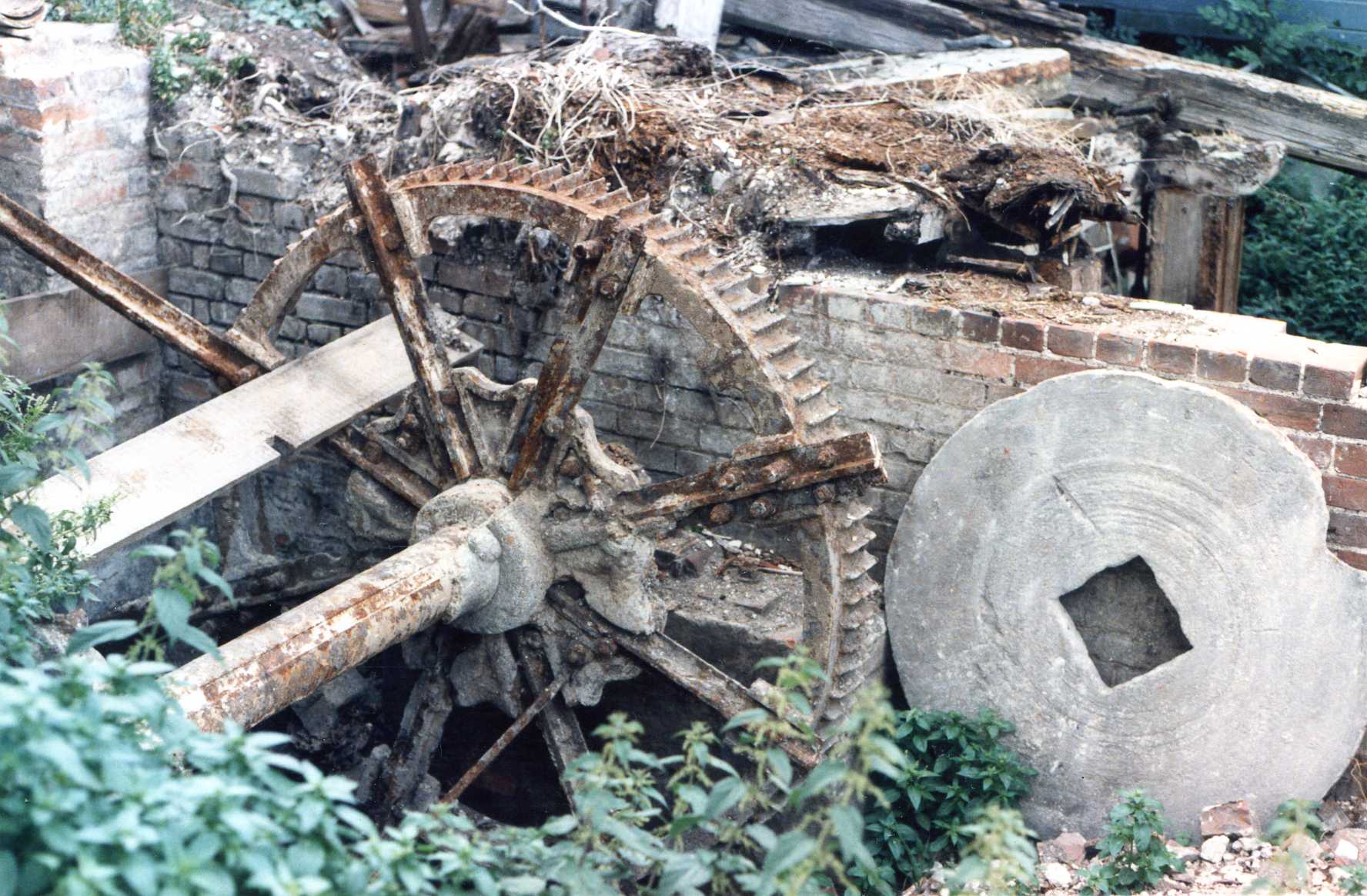 See related images and documents.
See images only.
Millers:
1852 William Henry Filmer
1878 Benjamin Filmer
1882 Edward Chopping
"The fifth [mill], called Perrywinckle mill, was some few years ago applied to the manufacturing of pearl-barley, which used to be imported from Holland; and it was supposed to be the only mill in the kingdom where that article was brought to the same perfection as in Holland, but this manufacture for want of due encouragement has been since discontinued" (Hasted, 1779).
"The site, at the corner of Church Street and Periwinkle Close is totally overgrown with goose grass, stinging nettles, brambles and elder; there are even some dumped cars quietly rusting away. Projecting proudly above all this desolation is a wooden upright shaft carrying an iron crown wheel and, on its top, a simple dog clutch. Closer inspection revealed that, under the vegetation, the partially collapsed timber hurst frame enlists enough support from the great spur wheel to carry a pair of well worn Derbyshire Peak stones. Beneath the pit wheel, wallower and least three stone nuts, complete with jacking mechanisms, are still intact. A certain amount of clearance, on the other side of the remains of the mill wall, revealed the uppermost wrought iron float of a broken waterwheel. This wheel is completely buried in rubble." (Wallis, 1984).
" The site has been cleared of rubble, and the wheel pit dug out. In late 1985, a project was announced by Martin Saffery and the Sittingbourne Society to fully restore the machinery, and to put in a new building over the top to house a museum, at the cost of £40,000. MSC people are now undertaking the work, which will be completed in 1988."
"The project appears to have stalled for the best part of 20 years. It stopped at the point of a new wheel and machinery made with hurst frame. This has all been left uncovered, and is beginning to deteriorate. New houses have been built around the remains, and one wonders what the future holds for this somewhat 'adventurous' scheme." (Rob Cumming, after site visit, August, 2007)
Full details
Location
Gallery
References
Contributors
Rob Cumming, May 2016
Missing information? Click here to tell us about this mill.