Hammer Mill, Biddenden
A water-powered corn mill in the historic county of Kent, England.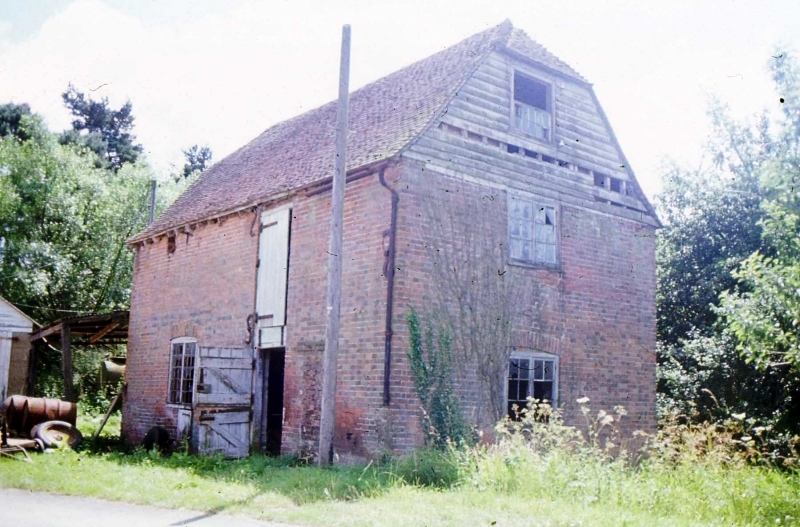 See related images and documents.
See images only.
Rob Cumming Inspection 6/7/1985 :- "This is a brick building with a weatherboarded front and gabled roof. The mill closed in 1914 but it restarted in 1928 and finally finished work in 1932. The mill has been semi-derelict for many years, and is still owned by the last miller, Mr Hall. The overshot wheel is alleged to have been made by Armfields of Ringwood, Hampshire, although I could not find a nameplate, and this seems unlikely, given the distance. It measures 12ft x 6ft, and all of the wooden buckets have been removed. The cogpit is very difficult to access because of a collapsed wooden encasement, but all the gear is iron. The pitwheel is 10 feet in diameter and engages with a 3' wallower. The spur wheel is 9' with 8 arms, engaging with two iron stone nuts. The tuns and furniture around the stones are missing. The crown wheel measures 3' 10" and is a compass arm wooden gear. The sack hoist has an unusual wooden drum. Also present is a flour dressing reel which apparently came from a steam mill at West Malling."
The mill remained unconverted in 2011, with the owner apparently interested in conservation.
Full details
Location
Gallery
References
Alan Stoyel, Mills Archive Foundation Trustee
Contributors
Rob Cumming
Related publications in the library
Missing information? Click here to tell us about this mill.