Frog Lane Mill, Sutton-at-Hone and Hawley
A water-powered corn mill in the historic county of Kent, England.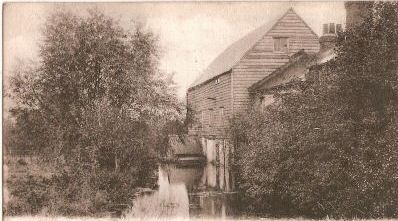 See related images and documents.
See images only.
Frog Lane Mill was situated on the a branch of the river known as the 'Devon Millstream', although no further evidence has come to light to link the name 'Devon Mill' with this site. The last mill here was a three-storey whiter brick and weatherboard structure with a covered iron wheel house; the mill house adjoined it and formed a continuous range parallel to the river. It functioned as a flour mill until the 1920's and was demolished in 1936. In the 1950's, the base of the structure could be seen here together with the waterwheel. In the following decade the wheel was removed, and the base incorporated into a house; in 1987 the house was substantially rebuilt, leaving very little of the original structure. The water course remains in a poor state.
Full details
Location
Gallery
The mill c 1910. Image courtesy of Rob Cumming.
The mill c 1910. Image courtesy of Rob Cumming.
The mill site, 1986. Photo by Rob Cumming.
References
Alan Stoyel, Mills Archive Foundation Trustee
Contributors
Rob Cumming, May 2016
Missing information? Click here to tell us about this mill.