Phoenix Mill, Dartford
A water-powered corn mill and drug mill and mustard mill and oil mill and paper mill in the historic county of Kent, England.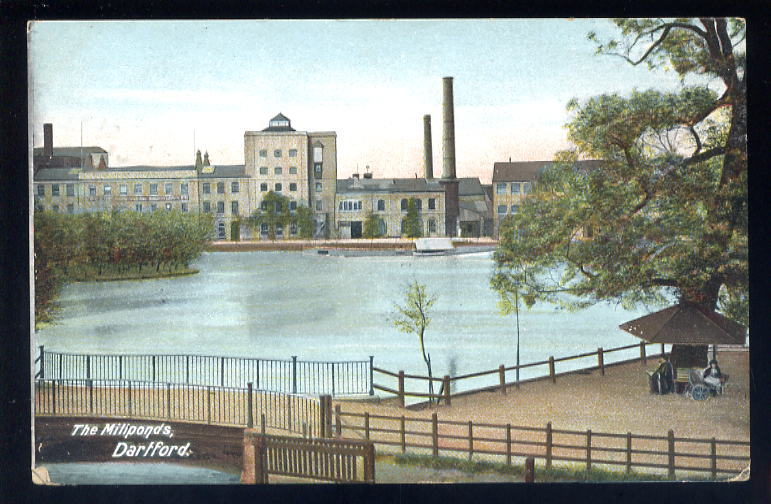 See related images and documents.
See images only.
The final milling site on the Darent was the largest on the river, and arguably one of the most powerful milling complexes in the country. Its siting, at the tidal head of the Dartford Creek, meant maximum water power, and also was particularly good for river transportation of its products.
Hasted makes mention of the site; in 1649 a mill was erected here for slitting iron bars and making wire. In 1779 it was converted to a sawmill, and later in 1790 a seven-storey cotton mill was built here, to be burned down five years later. In 1796, new mills were built by Matthias Wilks (of the gunpowder mills) at a huge cost of £80,000, as a corn, mustard and oil mill. In 1824, he instructed local millwright John Hall, to add a forty horse engine, to assist the three large breastwheels already working here.
In 1841, the mills were put up for sale. An extract from the auction documents follows, dated August 20, :- 'The mills are worked by a powerful stream of water, also Two Steam Engines of Forty and Twenty Horse Power, put up by Messrs Hall & Sons on the most approved principles. The flour mill contains thirteen pairs of stones, with all proper machinery, which are worked by the water and a twenty horse engine, and will grind about six hundred and fifty quarters of wheat per week. The oil and mustard mills are worked by a forty horse engine. The Oil Mill contains thirty six presses, one hydraulic press, four pairs of edge stones, and four pairs of rollers, and will crush about six hundred quarters of linseed per week. The Mustard Mill contains nine stampers, one pair of edge stones, and one pair of rollers and all proper machinery for the manufacture of mustard. The great advantage of the Phoenix Mills, over other mills, consists in never being flooded, and that the tide comes up to the mills; and when the Creek - now improving under an Act of Parliament - is finished, vessels from a hundred and fifty tons will lay along side the Mills. Two tides take a vessel to London; the freight of linseed is about 6d. a quarter, but of course costs much less by private barges. There is a great demand for linseed cake, which is carted away from the mills by farmers frequently at the rate of fifty thousand cakes per week; there is storage room for ten thousand quarters of linseed and wheat; also cisterns to hold three hundred and fifty tons of oil; likewise a copper which contains three thousand gallons for refining oil. All the shafts and wheels are iron, and a full £80,000 has been expended on the premises.'
The structure suffered a serious fire in 1852, and from around this time T.H. Saunders and Company are recorded as using it for paper production in conjunction with Sundridge, Darenth and Hawley Mills. However, directory references also give T.H. Saunders as oilcake manufacturer in 1858, and flour miller in 1870.
In 1889, the much of the complex was sold to Henry Wellcome, of Burroughs Wellcome fame, for the manufacture of drugs and chemicals. He leased the old oil mill structure in 1890 to L & S Keyes, who produced their 'Daren' brand of flour here using rollers powered by steam until they moved to Dartford Creek in 1901. The buildings continued to be used as a factory until demolition in 2013 for housing.
Full details
Location
Gallery
References
Alan Stoyel, Mills Archive Foundation Trustee
Contributors
Rob Cumming
Missing information? Click here to tell us about this mill.