Greatness Corn Mill, Sevenoaks
A water-powered corn mill in the historic county of Kent, England.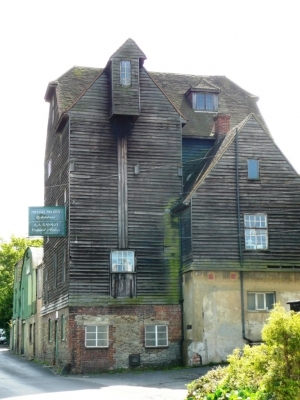 See related images and documents.
See images only.
About a hundred yards from the silk mill was an older corn mill, which prospered until 1927, when a major fire destroyed much of the plant. It was allegedly built in 1745, although there is little evidence in the current structure to indicate such an early date. The last miller was George Bennett, who purchased the property in 1927 at auction only a few months before the fire, where the following description was given of the mill:- 'The mill is arranged on four floors with a total floor area of 6,250 sq', is built of brick, ragstone, timber and corrugated iron with part tile and part corrugated iron roofs. It is fitted with three pairs of stones driven by a 20 ft overshot iron waterwheel, and by a 15 HP National Gas Company's Engine with Hornsby's Stockport Suction Gas Plant; extensive shafting and belting, worms, elevators, mixer, spare Runner stone, Chaff Cutter with automatic feed, elevators etc., Bran duster, Kibbler, Oat Crusher, Grindstone, Pump, Ground Oat Sifter, Cake Kibbler, Eureka friction hoist and worms, Electric lighting plant, including dynamo, switchboard, storage batteries, etc. etc.'
After the fire, the huge building was rebuilt in the form we see today, which is supposed to be a faithful copy of the original, although no photographs have come to light to prove this. Allegedly the rebuilt structure was intended to be used for milling purposes, and new machinery was put in by a millwright from Carshalton in Surrey, although there is nothing to suggest that this venture ever became fully operational. The watercourses are now piped under the building, and no machinery survives, although the bedstones are alleged to be in place on the stone floor.
Full details
Location
Gallery
References
Alan Stoyel, Mills Archive Foundation Trustee
Contributors
Rob Cumming, May 2016
Missing information? Click here to tell us about this mill.