Elm View Mill, Westerham
A water-powered corn mill in the historic county of Kent, England.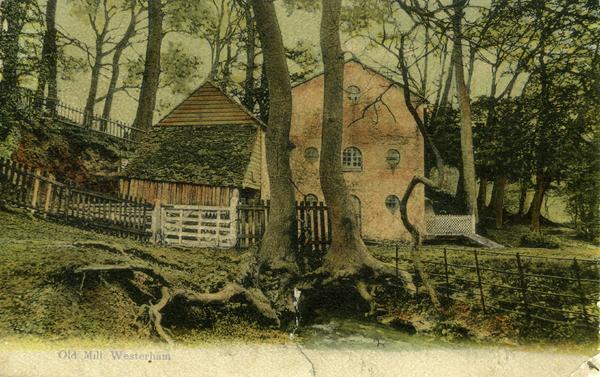 See related images and documents.
See images only.
Elm View Mill was a three storey, white painted brick and ragstone structure, probably dating from the late 18th century. It was frequently co-owned with Spring Shaw Mill during its working life. It was converted into a water pumping mill in 1881 when the Westerham Water Works Company Ltd was formed. A local construction engineer John Bingham won the contract to sink a 140 foot shaft to the aquifer adjacent to the mill, and the mill wheel was adapted to drive a pair of ram-pumps to pump the water up to an underground reservoir high on the hill beside the mill. In 1896 Westerham Water Works Co. Ltd was absorbed into Kent Water Works, which in 1902 became part of The Metropolitan Water Board (London). The mill finally stopped working on 12th May 1907, when the Met Water Board had connected the town to a large new reservoir just over the Surrey border at Clackets.
The structure was damaged by shell-fire in the Second World War, and when H E Simmons visited it in the late 1940s it was devoid of all machinery except for the iron overshot 12' wheel and pitwheel. In 1960 the structure was partially demolished, and was cleared over the next few years, leaving only a pile of rubble, although a retaining wall in ragstone survived.
Full details
Location
Gallery
References
Anthony Bryan, Mills Research Group Database
Contributors
Rob Cumming, May 2016; Bill Curtis, April 2021
Missing information? Click here to tell us about this mill.