Redbournbury Watermill, Redbournbury
A water-powered corn mill in the historic county of Hertfordshire, England.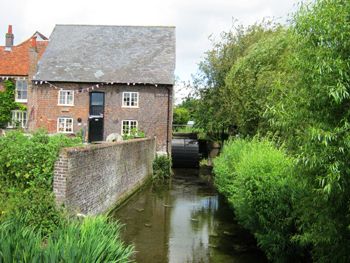 See related images and documents.
See images only.
This mill is a Heritage Partner. These organisations support our cause and share in our success. In return they receive a range of benefits, including publicity such as our featured mill pages. Find out more about the scheme...
Grade II Listed Redbournbury Watermill is the last working watermill on the River Ver. The Ver, which gave its name to Verulamium, the Roman city of St Albans, is a small spring-fed chalk stream which rises at Kensworth in Bedfordshire and eventually joins the River Colne near Bricket Wood. At one time this river, which is only about twelve miles long, provided power for at least ten mills carrying out a number of functions. In addition to flour milling there was a saw mill, a cotton mill and a silk mill.
There are many stories of survival connected to this delightful mill in its bucolic setting which is only about thirty miles from central London. Until the 1950s the mill was run by Ivy Hawkins, whose family had been millers since about 1850, and on display in the mill there are numerous artefacts relating to this remarkable woman whose story was even told in The Times newspaper.
After Miss Hawkins left the mill in 1985, aged 79, it was bought by the present owners, the James family, who set about putting it back to working order. On an August night in 1987 a tragic fire almost destroyed the mill but, undeterred, the owners started again and now the mill is a tribute to them and their perseverance.
None of the machinery or working parts that survived the fire bear any maker's name. Three pairs of millstones are arranged in line, driven by lineshaft gearing powered by a metal overshot waterwheel. A recent conservation project, undertaken by volunteers at the mill, has been the re-bucketing of the waterwheel. This was part-funded by the SPAB Mills Section's Mill Repair Fund. Supplementary power to run the mill at times of low water is provided by a 1932 Crossley HD11 oil engine which was restored in 1996.
The whole complex is highly sustainable: the various grains milled here are grown in fields adjacent to the mill, only to be made into a sumptuous variety of breads in the bakery situated in the old stable block. One of the most successful products produced by the mill is spelt flour. This is thought to have been introduced by the Romans and is now popular with those who have wheat intolerance. Spelt is one of eight products that is not just sold at the mill but also at various local farmers' markets.
Full details
Location
Gallery
References
Anthony Bryan, Mills Research Group Database
Contributors
Sara and Oscar Jarman, July 2016, January 2017
Related shop products
Related publications in the library
Missing information? Click here to tell us about this mill.