Potters Corner Mill, Hothfield
A water-powered corn mill in the historic county of Kent, England.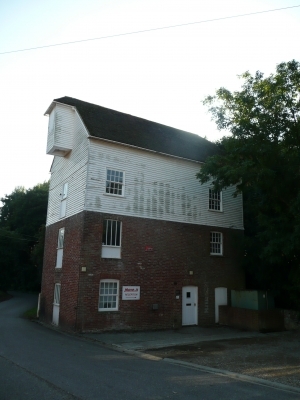 See related images and documents.
See images only.
Millers:
1839 Henry Tappenden
1870 Edwin Norrington
1882 William Weatherly
1887 George Sharp
1907 Edward Sharp
1911 Stephen Norton
1915 Charles Norton
From Coles-Finch, 1933:- "Hothfield Mill is derelict and will never work again. I gleaned it was the oldest mill on the stream, nearly a thousand years old." From Simmons Collection:- "Mill is used as a tea room" (PD, 1939). "Retains machinery, and Dennes work a Miracle Mill inside by power" (HRH, 1950). "The mill at Hothfield is often known as Potters Corner Mill and is still in good condition, although the wheel is rusting away." (Alan Stoyel, 1964). From Jarvis, 1983 :- "This is still a busy mill but not water-powered and not grinding. Some interesting seed dressing equipment is present and is electrically driven. The skeleton of an iron overshot wheel showed it to have been powerful, but the present water flow is low, probably due to abstraction. It turned a pit wheel, which, complete with its iron wallower and what, for lack of a better word I will call a crown wheel, is all in a rectangular pit below ground level. The upright shaft once turned four pairs of stones, but only the spur wheel is left on its iron shaft under the hurst frame. The 'crown wheel' appears to have driven two layshafts below ground floor level in trenches for auxiliary power distribution." Brief site visit, August, 2007:- (Rob Cumming) "It was converted into offices for a haulage company, c.1990. Building is in fine condition. The cog pit gearing has probably been retained, and the wheel is still outside, although just a frame."
Full details
Location
Gallery
References
Bryan, Anthony, Mills Research Group Database
Coles-Finch, William, Watermills and windmills (C W Daniel, 1933)
Jarvis, Paul, "Ashford Mill Tour" (Newsletter of the East Kent Mills Group, November 1983, p. 11)
Ordnance Survey 25 inch map (1871-2)
Contributors
Rob Cumming, May 2016
Missing information? Click here to tell us about this mill.