Watermill, Clapton
A water-powered corn mill in the historic county of Somerset, England.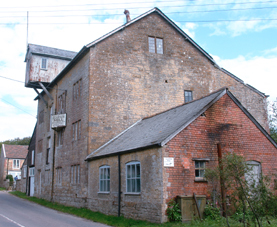 See related images and documents.
See images only.
Located in picturesque south Somerset, Clapton Mill stands on a mid-13th century mill site and the present structure is 18th century in origin. The mill worked commercially until 1991 and is now being given a new lease of life as a working museum.
It is built from local stone with brick extensions, with four storeys and a pitched roof and lucam. An impressively large 21ft-diameter waterwheel, with separate breastshot and overshot feeds, is housed internally, within a lean-to section of the building. This is fed by two rivers, and the raised launder which brings water to the site is an immediately noticeable feature. The primary drive to the machinery is by ring-gear from the periphery of the waterwheel, rather than the usual arrangement of pit gears from the wheel shaft. This installation dates from the mid-19th century, since when the mill has remained relatively unchanged. An interesting aspect of the gearing is the bevelled crown wheel, positioned between the wallower and the great spur wheel on the upright shaft, which receives power from an auxiliary engine.
The interior of the mill is exceptionally interesting, featuring a complete roller mill plant by Armfields of Ringwood, an original Ruston and Hornsby type 7HR oil-powered engine, four pairs of millstones, a sack hoist and other machinery. A recent addition to the site is a modern hydroelectric turbine which generates 'green' electricity, contributing to the sustainability of the mill complex.
Clapton mill is looked after by Craig & Gale Taylor, who are Friends of the Mills Archive.
Full details
Location
Gallery
References
Anthony Bryan, Mills Research Group Database
Related publications in the library
Missing information? Click here to tell us about this mill.