Queen's Mill, Castleford
A electricity- and water-powered bone mill and corn mill in the historic county of Yorkshire, England.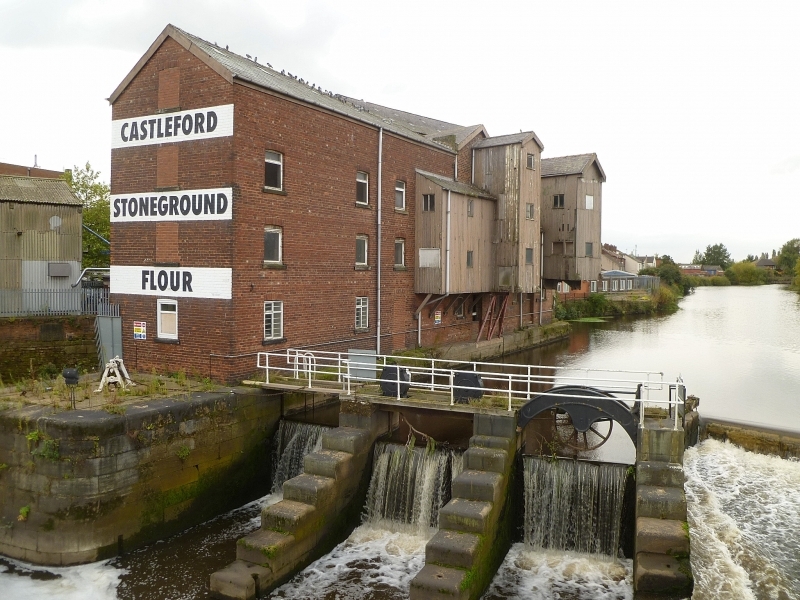 See related images and documents.
See images only.
Image copyright Martin Watts.
A mill had stood here since the middle ages. By the nineteenth century it was a bone and corn grinding mill, housed in a stone building and powered by two waterwheels. In 1884 it was taken over by Harry Goodall & Co, who converted into a roller mill and replaced the waterwheels with a single 21ft diameter wheel which generated electricity. The wheel continued working until 1970. The mill was gutted by fire in December 1897 and did not work for the next 20 years.
In 1921 Thomas Allinson took over the mill and removed the roller milling machinery, reinstating millstones. Further stones were later added bringing the total to 20 pairs, making this the largest stone-grinding mill in the world. Ownership passed to Booker McConnell in 1972, Allied Mills in 1994 and ADM Milling in 2003. In 2010 the mill ceased working and ownership passed to the Castleford Heritage Trust.
Full details
Location
Gallery
References
Anthony Bryan, Mills Research Group Database
Related publications in the library
Missing information? Click here to tell us about this mill.